Top Motivating Biggie Smalls Quotes To Make You Unstoppable (Updated March 2023)
Hello readers, here you will get 34 Motivating Biggie Smalls Quotes and his short biography.
Christopher George Latore Wallace who was popularly known as Biggie smalls was born on 21st, May 1972 in New York. He was a very popular American songwriter and rapper and even considered one of the greatest rappers of the '90s.
He was the only child in the family and his parents were Jamaican immigrants. Voletta Wallace, his mother was a preschool teacher and his father Selwyn George Latorre was a politician. His father left the family when he was 2 due to unknown reasons and his mother worked in 2 jobs to make ends meet.
He was nicknamed 'Big' in school because of his overweight and started taking drugs by the age of 12. He was quite good at English and won many awards in this subject during his school days.
He was involved in many crimes from a very young age and even got arrested at the age of 17. He was released on parole but was again arrested for breaking the parole. He even dropped out of school due to his increasing involvement in crimes and released his first album after coming out of jail.
He did not take his singing career very seriously but the local entertainers discovered the young man's talent and inspired him to tape his songs. His style of singing was very natural and he could tell any story in a flow.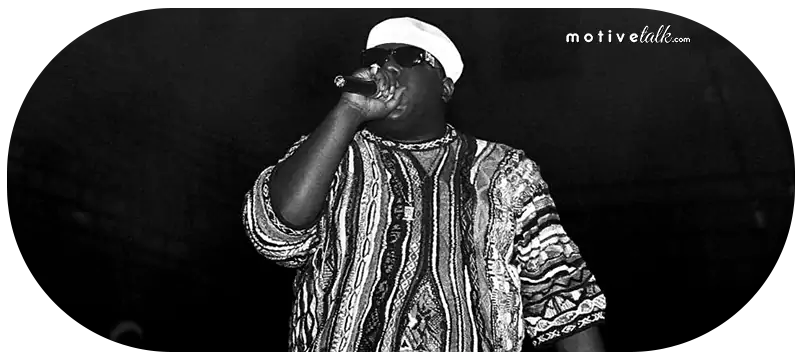 Most of his songs were his self-experienced but people could easily relate to them and this made him quite popular also among the people. His first album Ready to Die was released in 1994 and was a massive hit after its release. He became the top-selling solo rapper after the release of his album.
On, August 8, 1993, his first child Tyanna was born from his childhood sweetheart but due to his drugs taking habit the couple had already parted their ways. He was a very loving father and promised to fulfill all his daughter's wishes.
He married singer Faith Evans in 1994 whom he met in the photoshoot of bad boys. Just a few days after marriage his first album was released and it was a massive hit.
He had a very good friendship with fellow rappers  Tupac Shakur, both used to go on unofficial trips and inspire each other's work. He was also on friendly terms with  Shaquille O'Neal, who was quite inspired and attracted by his lyrics, both of them collaborated on a song and gave the world the famous song "You Can't Stop the Reign".
The death of his friend Shakur was a blow to him and shook his world upside down. His wife remembers that he cried when he heard the news on phone and was quite shocked himself. On, 29th October 1996 the couple's first child a baby boy Christopher "C.J." Wallace Jr was born.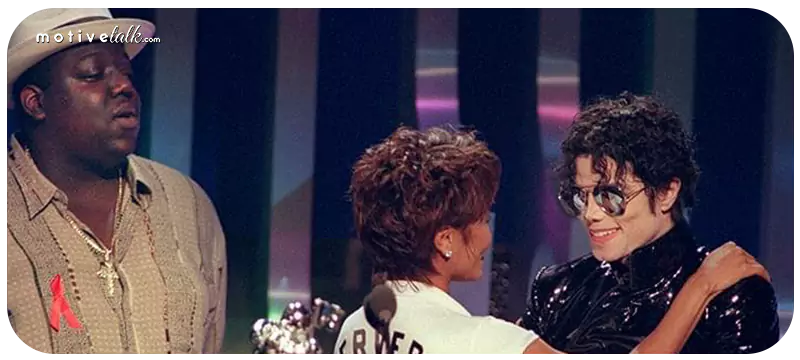 He collaborated with many singers over time and even with the world-famous Michael Jackson. He won many awards during his lifetime. He did not give up his addiction to drugs and frequently visited prison due to this reason.
During, his last days he gave statements that he is afraid that he will die soon due to his growing popularity. In February 1997 his fear came true and he was shot to death by an unidentified assassin.
During his short lifetime he gave some of the best and most inspiring quotes, Let's read some of them.
T

o

p

 

34

 Motivating and

 

F

a

m

o

u

s

B

i

g

g

i

e

S

m

a

l

l

s

 

Q

u

o

t

e

s
"While your guns raisin', mine is blazin'."
― Biggie Smalls Quotes
"The second time I went to jail, I was like, 'Okay, this is not the move.'"
― Biggie Smalls
"I hold grudges, but I can't hate nobody; that's not my nature."
― The Notorious B.I.G. Quotes
"I would never wish death on nobody, 'cause there ain't no coming back from that."
― The Notorious B.I.G.
"Never let them know your next move."
― Top Biggie Smalls Quotes
"Every true hustler knows that you cannot hustle forever. You will go to jail eventually."
― Biggie Smalls Quotes
"Stay far from timid only make moves when you're heart's in it, and live the phrase the sky's the limit."
― Biggie Smalls
"Damn right I like the life I live, Cause I went from negative to positive."
― The Notorious B.I.G. Quotes
"Get ready to die, tell God I say hi."
― The Notorious B.I.G.
"To all the teachers that told me I'd never amount to nothing."
― Top Biggie Smalls Quotes
"Never let anyone know how much dough you hold."
― Biggie Smalls Quotes
"Excellence is my presence, never tense, never hesitant."
― Biggie Smalls
"What happens on that corner happens on every corner."
― The Notorious B.I.G. Quotes
"If you feel like it's something you don't have to do, you really have to question it."
― The Notorious B.I.G.
"My real life helped me sell a lot of records."
― Top Biggie Smalls Quotes
"If the game shakes me or breaks me, I hope it makes me a better man."
― Biggie Smalls Quotes
"You're nobody 'til somebody kills you."
― Biggie Smalls
"Sticks and stones may break bones, but the Gat will kill you quicker."
― The Notorious B.I.G. Quotes
"I found something I was good at, I'm just trying to flip it, keep it going. I ain't trying to slack at all."
― The Notorious B.I.G.
"I'm living every day like a hustle."
― Top Biggie Smalls Quotes
"I'm definitely a writer. I don't even know how to freestyle."
― Biggie Smalls Quotes
"Move over Lucifer, I'm more ruthless, leave you toothless."
― Biggie Smalls
"Please don't hate me because I'm beautiful."
― The Notorious B.I.G. Quotes
"We can't change the world until we change ourselves."
― The Notorious B.I.G.
"Climb the ladder to success escalator style."
― Top Biggie Smalls Quotes
"Growing up in the streets of Bed-Stuy, it was hard, yo."
― Biggie Smalls Quotes
"I'm making music for the people. If y'all love the music, y'all gonna buy the music."
― The Notorious B.I.G. Quotes
The Last 6 Biggie Smalls Quotes are Below
"We ain't trying to fail in this game. We trying to succeed."
― The Notorious B.I.G.
"Learn to treat life to the best, put stress to rest."
― Top Biggie Smalls Quotes
"If you don't love yourself, I'll make you see your own heart."
― Biggie Smalls Quotes
"Even when I was wrong, I got my point across."
― Biggie Smalls
"First comes the cash, then comes the ass, then come big blunts with chunks of hash."
― The Notorious B.I.G. Quotes
"And everything you get, ya gotta work hard for it."
― The Notorious B.I.G.
"The hustlers on the corner were my role models."
― Top Biggie Smalls Quotes
Few Words About Biggie Smalls
Though Biggie Smalls did not live a long life due to an untimely death his words have lived on. He is still considered a prominent figure in New York and his songs are still popular among the people. Don't forget to share these quotes with family and friends.