Juice Wrld Quotes And Lyrics – That Will Turn You On (Update March 2023)
Juice Wrld (1998-2019) was a popular American Singer, Rapper. So today we will create a blog post about Juice Wrld Quotes And his few Lyrics, that will turn you on the next level.
Jarad Anthony Higgins who is popularly known as Juice Wrld was born on 2nd December 1998 in Chicago, U.S. He was a very famous American Singer, Rapper, and Songwriter, who is popularly known for his song 'Lucid Dreams'.
His childhood was very disturbed and his parents frequently had arguments in front of his brother and him. His parents got divorced when he was only three and was raised by a single mother.
He got inclined towards music at a very young age and started learning the piano at a very young age of 4. Later his mother inspired him to take interest in this field and paid for his piano lessons.
Music was the source of his relief and apart from the piano he later started learning drum and guitar. He belonged to a very religious and conservative family and his mother did not allow him to listen to hip-hop music as she felt it creates a bad influence.
He was allowed to listen to rock music and pop music and play trumpets for his school band. Higgins was a very heavy drug user during his school years and senior years. He quit smoking only after his health issues in his high school years.
He had lived in suburban areas and was exposed to the problems of the people at a very young age. He used music to express the problems which were faced by the people in their everyday life.
He was not afraid of anything at showed the other side of the powerful countries and how the poor were barely able to survive in these conditions.
His genre-bending and electric music were loved by people all around the globe and won him fans in all the countries.
He started uploading his songs which he used to record and save on his phone on SoundCloud and was immediately a hit among the people.
His song 'Lucid Dreams' and 'All Girls Are The Same' are considered a piece of art and managed to stay on the No.1 spot on Spotify music for weeks.
The multi-talented actor during his short career released many songs and even collaborated with Atlanta-rapper Future. His collaboration project with rapper Future, World on Drugs was a massive hit and was followed by a second album Death Race for Love.
Let's have a look at some of the mind-blowing quotes by this famous young artist who in a short life span won the heart of millions of people around the world.
27 Best Juice Wrld Quotes And Lyrics
"I know I have a purpose, but I don't see the purpose." ― Juice Wrld Quotes
"I had phases of listening to rap and trap, and then I had phases where I'd listen to post-hardcore, rap, grunge, metal, all that. I had different time periods of listening to different music. And now it all clashes together." ― Juice Wrld Quotes
"What am I to do it seems I fell in love with you." ― Juice Wrld
"If you a real muthafucka, you gonna always gravitate to genuine energy and activity." ― Quotes Of Juice Wrld
"Nobody on this earth is perfect. Everybody has their flaws; everybody has their dark secrets and vices." ― Juice Wrld Quotes
"It's always good to put thought into shit, but something's gonna come more from like, a feeling and heart and the soul, less like the mind." ― Juice Wrld Quotes
"I think it's important to add a personal aspect to your music – that's what makes it authentic at the end of the day." ― Juice Wrld
"Elevate elevate elevate myself now I am on the ground on the ground have not been myself." ― Quotes Of Juice Wrld
"Everyone knows someone who does stuff that isn't healthy for them. But imagine how much of a fuck you don't give to do that, to drink that, to pop that." ― Juice Wrld Quotes
"Honestly the way I make music, you know it is like I don't want to sound cocky or anything, but I try my best to make time with music that doesn't have an expiration date." ― Juice Wrld Quotes
"I stay to my self a lot." ― Juice Wrld
"I don't know if it's because my heart hurts or if I am insecure." ― Juice Wrld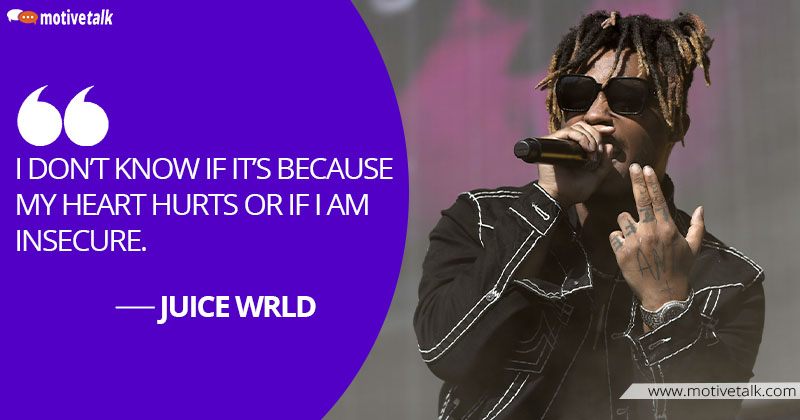 Juice Wrld Quotes About Success
"Even if I'm talking about something that's negative, I look at it as putting my mistakes out there for people to learn from it." ― Juice Wrld Quotes
"A lot of men make fun of you for expressing your feelings because they don't get it. They can't wrap their heads around the concept of being completely honest and forthright." ― Juice Wrld Quotes
"It's funny how the blessed ones had the most curses." ― Juice Wrld
"I have always been involved in music. Whether it be taking piano lessons or something, I always have." ― Juice Wrld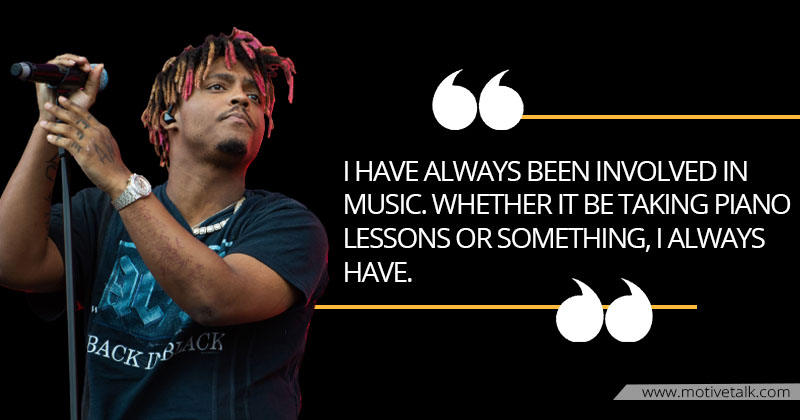 "Even in high school, I went through a lot of relationship issues, and that's at the centre of my music." ― Juice Wrld Quotes
"I really just like making music. People call that 'work.' Like, 'Oh, you're going to the studio to work?' No, that's even what I do in my off day. I love recording." ― Juice Wrld Quotes
"You, people love to talk about the money that they make/Nobody wanna talk about the money that they save." ― Juice Wrld
"One thing my dad told me was, never let your woman know when you're are insecure." ― Quotes Of Juice Wrld
"We are trying to hide our feelings, but we forgot that our eyes speak." ― Juice Wrld Quotes
Last #6 Juice Wrld Quotes are Below
"I just walked in the building. Look like a million, but I'm worth more than a million." ― Juice Wrld Quotes
"And I cannot change you, so I must replace you, oh Easier said than done." ― Juice Wrld
"Telling you right now, all you'll find is a lost soul, rich and blind." ― Juice Wrld Quotes
"We're perfectly imperfect children. Rose from the dust, all of us are on a mission" ― Juice Wrld Quotes
"I'm running to the money all the time so I can never be late." ― Juice Wrld
"Music turns up neighbors telling me to pipe down." ― Quotes Of Juice Wrld
Last Words For Juice Wrld
On, December 8, 2019, this young and famous singer bid adieu to the world. Drug abuse from a very young age took a toll on his health and became a cause of his death.
His mother later revealed that apart from drugs he was fighting a fight against depression and anxiety.
Though the singer lived a very short life he connected with millions of people around the globe and reflected their true selves through his songs.
He might have left this world but his words and songs will always rule people's hearts.
Don't forget to share these quotes with friends and family.