The 11 Best YouTube Alternatives For Watching Videos and Movies (Update: July 2023)
Do you know which are the Best YouTube Alternatives in 2023?
Youtube is an app known by all and present on everyone's phone. This is a great platform for sharing videos and anyone can see them. For uploading a video one needs to be a registered user. The former PayPal employees collectively developed YouTube in the year 2005.
Later in 2006, YouTube was acquired by Google. YouTube allows its users to share their videos on other platforms too. It doesn't matter if you are a total professional or an amateur you can upload your videos. One can come across videos from several genres for example- music videos, sports, stories, vlogs, and a lot more.
YouTube opens an opportunity for the next generation to showcase their talents and many people got popular through YouTube. YouTube has become a prime source of income for many people.
Videos having copyrights are not encouraged by YouTube. Teen pop stars like Justin Bieber have gained attention through YouTube.
Why Should One Look For YouTube Alternatives in 2023?
Certain negative points come to hand to hand with YouTube so people tend to look for YouTube alternatives-
Many people share inappropriate content on YouTube. YouTube is not much suitable for kids without parents' constant attention.
People try to defame each other and the environment becomes toxic. People make videos of roasting each other for fun which crosses boundaries sometimes.
Monetizing through YouTube is not easy. One can not gain viewers that easily. Uploading a video can be done by all but earning through them is tough.
One can get distracted from what one has come to see by several other videos on various topics.
The List of Best YouTube Alternatives
If you are looking for YouTube Alternatives you do not have to look any further because we have made a list of top YouTube Alternatives and everyone will get something for themselves-
11.
Vevo
Vevo, a music video platform that emerged onto the digital scene in 2009, has proven to be an influential and leading figure in today's saturated world of online content. This company was created as a partnership between outstanding record labels like Universal Music Group, Sony Music Entertainment, and Warner Music Group.
Its undeniably popular format offers all-inclusive storage of official music videos from all major artists.
For those passionate about accessing the latest releases to revisit timeless classics alike – Vevo is the faithful one-stop source of entertainment. On top of its compelling cache of musical footage that is easily accessed on desktop websites or mobile applications through partnerships with other internet entities, it boasts high-definition quality films providing not just excellent entertainment but also valuable behind-the-scenes discussions grooving along artist interviews and exclusive sets for performances allowing users to dive into various worlds constructed around each performer's craft.
Vevo increased its partnerships and audience over time by working with both well-known and up-and-coming musicians. For musicians to market their music and interact with their fan base, it became a crucial tool. Vevo also provided advertising options, enabling companies to reach a broad audience through carefully chosen spots in music videos.
10.
SproutVideo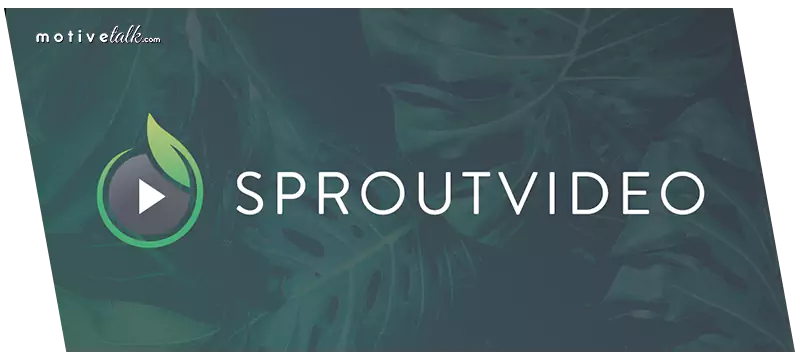 This is an excellent YouTube alternative if you are a solopreneur or own a small business.
If you want to show your creative side you can create unique videos and customize them for each page on your site. Sprout Video gives control to its users. This makes sure that your designs and implanted video do not clash instead they complement each other. Through API Integrations one can send the leads directly to their preferred autoresponder or CRM. You can capture leads from your video and you also get led forms that can be customized.
It can be incorporated with Hubspot, MailChimp, Zapier, and several other third-party tools.
One can enjoy 4K UltraHD playback and advanced analytics. Enterprise Plans allow geo-restriction. By paying 25 dollars a month you can get a reasonable seed plan.
If you want to enjoy more than 500 GB of bandwidth a month you have to pay extra.
9.

Brid.TV
The next great YouTube alternative on the list is Brid. TV and if you are looking for monetization solutions on an enterprise level this will be your best call. This platform focuses on the growth of publishers and tries to help them to monetize their viewers.
The growth of this company has been great lately so, you can give this one a try. This is the best time to give this a try and see where it takes you.
The setup process is very easy and one gets to manage videos at the enterprise level by paying an affordable price.
Although their plugin for WordPress has been a bit unstable this one is worth giving a try.
8.
Twitch
The next YouTube alternative on the list is Twitch. This is a great platform for content creators and has a high monthly visit rate. Millions of people visit Twitch monthly and 4K video quality is offered by Twitch. This is not ad-free but has a lot to offer. Twitch has its main focus on the gaming community.
If you consider yourself good at games and feel like sharing your skills with others through live-streaming then this is a great platform for you. It's not like only gaming content is available on twitch from music to hobbies-related content are available too. But you have to keep a close eye on whatever you are saying and posting because Twitch avoids controversies and even slightly offending content can get you banned.
7.
Brightcove
The next in the YouTube alternatives list is Brightcove. If you are an entrepreneur and have businesses distributed then this leading online video platform will be a great choice. Not only live streaming and video hosting one can do a lot more using Brightcove.
One can deliver live videos on smart TV apps as well as on smartphones by using OTT technology. If you are a publisher you will get an ad insertion by server-side into the videos you have hosted. You can sell ad spaces directly if you integrate DPS.
You will get a better understanding of how your customers are interacting with your creation through real-time video analytics.
If you are looking for UltraHD support you will get that here and video resolution goes up to 8K. The video quality gets improved through collaboration tools.
The interface is a bit clunky and the absence of pricing models is some negative points but one can ignore them if they are satisfied with the other great features.
6.
DTube
The next YouTube alternative on the list is DTube and which uses blockchain technology to allow sharing of videos from one person to another. The risk of server outage and your video getting interrupted is minimized by their decentralized approach.
The AI-based app censorship present in YouTube is opposed by DTube and if you are going to be a successful video creator you can earn in DTube's cryptocurrency. For every successful video, you can earn cryptocurrency.
This YouTube alternative has no censorship so one can share their content freely. The negative part is the number of audiences is pretty low and the interface is clunky. If you like freedom of speech then this might be a great alternative for you.
5.
Twitter Video
The next awesome YouTube alternative is Twitter Video. One might have already come across this app already, it is a great platform. Sports and events get covered up daily from the time it was launched. Any user can share or upload videos. There is even an option for live streaming.
The length of the video is limited to 140 seconds only so very long videos are not allowed. The maximum resolution of video can be up to 1200p. If you are someone who finds making long videos hard this is going to be a great alternative. For people making funny videos and other creators who are experts in short videos will love this alternative.
4.
Vimeo
The next great YouTube alternative is Vimeo. Vimeo offers an exciting range of tools for collaboration, compressing, hosting and sharing, etc.
Vimeo has an active user base and it has its focuses on selective niches. So if you want to build an audience this will be a great platform. These active users maintain a thriving community. If we will categorize the popular videos on n Vimeo, it will be like this-
Videos of Nature
Extreme Sports
Animations
Music Videos
Short Films
If your work meets their cinematographic standards they will celebrate your creativity and share them too.  Many business owners and creators consider Vimeo as a better platform.
Vimeo supports 4K quality video upload as well as playback. One can also perform live streaming. One can use Vimeo free of cost but has a limit of up to 500MB upload a week. The ad revenue potential is not available on Vimeo.
The top 3 Best YouTube Alternatives are below
3.
IG TV
The next popular YouTube Alternative is IG TV. This is a popular video-sharing platform that offers a completely mobile-first environment. This alternative is a new one, it got released in 2028 and is giving tough competition to YouTube. Especially for vines, IG TV is preferred a lot more. If you want to make a deeper connection with your audience this alternative is going to be the best one.
If your target audience belongs to the younger age and you do not have funds for a production crew IG TV has got your back. Native video sharing on Instagram is a great positive point of this alternative and it also supports native mobile video formats. The low-fi videos also do well on IG TV.
2.
Facebook Watch
Now that we are talking about IG TV the next YouTube alternative has to be Facebook Watch. This is another popular alternative and is used by a lot of people. Here you can catch up with trending videos based on your interest. Your interests get determined based on your watch history. The interface of Facebook Watch is a lot different and now it has developed to become a tough competitor of YouTube. For video hosting and sharing Facebook Watch is a great place.
The reach of Facebook Watch is a lot more compared to YouTube. One can earn money through ads on Facebook Watch. The maximum resolution of the video is 1080p and the user base of Facebook is a lot wider than YouTube. Facebook has crossed three billion views in a month. For vloggers and small business owners, this is a great alternative. Facebook also allows live streaming.
1.
Dailymotion
The top most Youtube alternative is Dailymotion. Like any other alternative, this is a platform for uploading and sharing your videos with the audience present. If you want to make money out of shared ads you can do this here and you can create your own channel too. This YouTube alternative will give you the most familiar feeling of YouTube.
One can upload as many videos as they want in a day and HD videos can be uploaded too. 4K videos can be uploaded as well as supported for playback. The audience is a bit limited and for content creators and marketers, the number of the audience plays a big role.
The videos that have got millions of views on YouTube get a lot less at Dailymotion. The final result of videos on Dailymotion looks a lot sleeker. If you have not yet made your presence on YouTube you can give this a try. The competition is less over here so chances of growth are more. If you want to watch high-resolution videos on Dailymotion you have to pay a price.
Conclusion of YouTube Alternatives
Watching videos has been a part of our lives. During our free time, we all love to watch videos of various types. From music videos to stories we have a lot of types to choose from.
Videos are enjoyed by people from every age group, be it a child or grown-ups. YouTube might fail to satisfy the demands of some people. Our list has YouTube alternatives that excel in different fields. Give a look at the exciting features and give a try to the one that impresses you the most.
Topic Summary
Here is a quick list of The Top 11 Best YouTube Alternatives For Watching Videos.