The 8 Best uTorrent Alternatives Of 2023
Are you looking for uTorrent Alternatives?
Torrenting has allowed us to download different types of media over the Internet in a very convenient way. uTorrent is very popular among online users.
uTorrent is a software that allows users to download and also share torrent files. uTorrent ranks on top of serving torrent clients. uTorrent has a vast number of users and ranks on top as mostly serving torrent clients outside of China.
Whether you want to get your hands on a wide range of video games or movies uTorrent will be very useful for you. You can download multiple media like eBooks or videos at the same time. uTorrent also allows its user to pause any download and resume it at their preferred time.
uTorrent is liked by all as it has a clean user interface and the users can even customize the search bar. uTorrent supports full proxy support and allows the exchange of peers with other BitTorrent clients.
Available platforms of uTorrent- Android, macOS, Microsoft Windows.
A Few Ways To Make uTorrent Safe
Before going into uTorrent alternatives here is some ways you can apply to make your uTorrent experience better-
One of the important steps to follow is downloading files from places that you can trust. If you don't have any idea about trusted sites do a bit of research on Reddit and you will find the names of a few trusted sites. Choose any site based on your preferences.
Keep an eye on the software you use. The software must be able to protect your privacy and keep you Anonymous. You can take the help of a VPN service for this purpose.
Prevention is better than cure so use good antivirus software to keep your device safe in case you go through a risk of a virus attack.
To keep away malware and stop them before it can interfere with your data by placing a firewall. Enable the firewall before using uTorrent.
What has made uTorrent this popular?
uTorrent is compact and the user interface of uTorrent is very friendly. If we will compare uTorrent with other competitors we will see that downloading files in other torrents is a bit tough but uTorrent simplifies the download process. People like getting their work done in less time and by giving less effort.
One can navigate freely without facing many complications in uTorrent.
Also if you are someone who likes to keep their torrent files properly arranged uTorerrent gives you that option. uTorrent allows remote management. Freely check the progress of your torrent files even if you are away from the main device.
uTorerent has many flaws too like excessive ads and no options for CLI but the software is free to use so we can not expect much.
uTorrent also does not allow add-on or plug-in support; it also packages software with the default installer.  One has to bear with the cons to enjoy free torrenting. But if you are looking for uTorrent Alternatives, here are a few suggestions for uTorrent alternatives.
S
o
m
e
O
f
T
h
e
B
e
s
t
u
T
o
r
r
e
n
t
A
l
t
e
r
n
a
t
i
v
e
s
uTorrent made its place in the world of torrenting but it is not the only available software. There is other software too which can offer a wider range of functions at less price.
The apps mentioned in the list are safe and will prove to be a great choice among uTorrent alternatives-
8.
Halite
For anyone who wants a lightweight yet powerful BitTorrent client -look no further than Halite! This open-source platform ticks all the boxes in terms of user-friendliness and essential features to ensure seamless torrenting experiences.
One great feature of Halite is its minimalistic design and ability not to hog system resources.
This ensures your computer hums along like normal without any slowdowns while downloading torrents- particularly useful if you have outdated or lower-spec hardware.
Moreover, Halite supports many handy functions that aid in managing torrents; enabling users to prioritize individual files within them according to their needs or bandwidth allowances (so you can cherry-pick what's most important). Besides, this selective downloading option helps save time & bandwidth by choosing only those necessary files ahead of others in the list – so you don't end up waiting forever!
Halite also has security-ensuring mechanisms like automatic rechecking and hashing to validate the integrity of your downloads.
Furthermore, it supports magnet links and can run multiple simultaneous downloads if required making it a great all-in-one solution.
7.
Bitport.io
While researching uTorrent alternatives the first alternative that outshined most others is Bitport.io. Finding a good client in the market where there are ample clients available is a tough job but Bitport.io will surprise you.
This software is new in the torrent market but has managed to make its place in pretty less time. Maybe because it has some really good features people prefer Bitport.io so much.
The software offers great features like keeping your IP address safe when you're retrieving torrents. If you want to download any torrent you can do it and also save them safely in your Google Drive. The software is encrypted as well as cloud-based. You do not have to download any additional VPN to start torrenting.
You can enjoy this without downloading as this works on a web browser. One can also sync their computer with multiple devices chosen by them. From Chromecast to iOS one will get apps from a variety of platforms.
The best part is you can use this client for free but it will offer you only 1GB of cloud storage. 250 GK of cloud storage will cost you 15 dollars per month. No matter what web browser you have, it works well on every web browser. So all these features made Bitport.io on the list of top uTorrent alternatives. 
6.
Tixati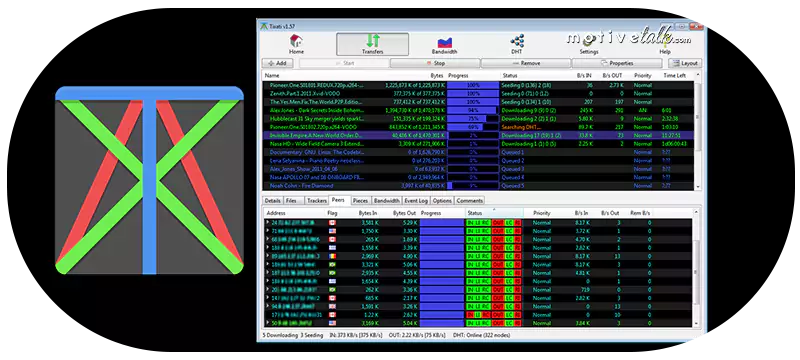 The next on the list of top uTorrent alternatives is Tixati. What makes it special is that as a torrent consumer it is permitted one. Whether you are a beginner in the world of torrents or a professional Tixati will bring several possibilities for you.
The interface of Tixati is distinct and accurate which will help you to focus on the possibilities. It will display all information and data. One can also do discussions with their partners and stay updated with statistics.
The other specialties of Tirati are that it keeps your device healthy and doesn't come between the health of your device, one also doesn't have to worry about malware or virus, not even ads. If you look for data you will get them in the form of graphs.
All the basic features are present too for example – DHT, UPnP, Bandwidth Regulator, filters, etc. Tixati is free for all and is compatible with Windows XP, Mac Linux, Windows 7, Windows 8, Windows 8.1, and many other platforms. After having all these features it deserved to get included among the uTorrent alternatives. 
5.
Vuze
Vuze might not be as same as uTorrent but a great uTorrent alternative. Vuze is a locked source and it is found that it has a great number of users among other uTorrent alternatives.
Every software has pros and cons and the con of Vuze is the number of ads that will interfere between you and the main screen. If one wants to enjoy extra features they have to go for Vuze Plus.
If you want a lighter substitute for Vuze you can use Vuze Leap. Vuze Leap is Vuze's substitute and is a bit more user-friendly comparatively. Transferring torrents to searching torrents can be done on Vuze Leap.
Vuze offers advanced features like warnings, Bandwidth regulator, and RSS contribution. Vuze is great for beginners and works seamlessly.
The software is free to use but has a Pro version which will cost you $29.90 per year.
Vuze is compatible with many Windows versions as well as Android and many versions of Mac OS X.
4.
qBittorrent
If you are looking for a peaceful to use and speedy uTorrent alternatives then this will be perfect for you. This software offers you the best download speed. The biggest benefit of qBittorrent is that it's free-to-use and also it is completely open source.
qBittorrent tries its best to take up as little size and CPU as possible. qBittorrent will meet the expectations of many operators.
The interface of qBittorrent is excellent and precise. Anyone can get comfortable with the tools that are present because their details are mentioned. To offer their user the best experience possible they try to keep up with modernization and keep providing updates.
To get away with the ISP restrictions with qBittorrent one can try using a VPN connection. The ads can cause interruption but having to deal with them is free to use.
For people who are accustomed to uTorrent, qBittorrent will be the best uTorrent alternative for you. Another thing that you will not find in this alternative is – advanced tools.
If you are a Windows user then the XP,7,8,8.1 will be compatible with qBittorrent. For Mac OS X users- Yosemite, Linux, FreeBSD, Mavericks, Lion, and OS/2 will be compatible.
3.
TransmissionBT
TransmissionBT is the next app on the list of uTorrent alternatives. Those who are looking for a feature-rich, simple torrent client for their Mac OS X or Linux systems should check out TransmissionBT. It is a good choice for Mac and Linux users.
You can install it on Linux and Mac OS X, and it is a very simple torrent client. You can also download the Windows version from a third-party download site, which will be tweaked specifically for Windows.
It is an open-source torrent client that contains no crapware, ads, or other inconveniences. Even though it has a simple interface with a few menus, it contains many powerful features, such as encryption capabilities, supports web seed, provides a web interface, manages peer exchange, uses DHT, lets trackers be edited, and also has speed controls.
Since it is so easy to use, Ubuntu includes it as the default torrent manager. So this can be a great uTorrent alternative for you.
2.
Deluge
If you don't like being bounded then Deluge can be your choice among other uTorrent alternatives, Deluge is based on the same type of encryption as BitTorrent.
If you liked the older versions of uTorrent better or you want something similar to qBittorrent Deluge is perfect for you. Altogether this may not be the best torrent client but is simple and reasonable.
The features it offers have made Deluge make its way to the uTorrent alternatives.
Deluge's one of the biggest benefits is that one doesn't have to deal with annoying ads on their central screen.
Use it freely no charges are applied.
You don't want to use every feature? No problem, you can just modify it and deal with the functions needed by you only. This way Deluge becomes more device friendly.
Deluge offers a lot of easy functions like UPnP, peer exchange, security passwords, etc.
From Windows XP to 10 anyone can use Deluge and for Mac OS X users it is compatible with Mac OS X: Mountain Lion, Lion, Mavericks, Linux, and Yosemite.
1.
Tribler
Last but not least in the list of uTorrent alternatives is the Tribler. If you want to enjoy an in-built torrent search engine then start using Tribler.
Download torrents freely because it is ad-free and free of any charges. If you are concerned about your security just look at the advanced security features that offer you hidden seeding, onion routing, and encryption.
Security and torrent downloading is focused on by Tribler. One should still use a VPN while using Tribler because it is still in its testing phase.
Conclusion of the Top uTorrent Alternatives
If you want to step into the world of torrenting then choose any of these trusted uTorrent alternatives. Download anything from movies to songs to videos. Keep yourself entertained with safe torrenting.
From uTorrent being the only torrent client to now having such a wide range of options of torrent clients to choose from, the world of torrenting has changed a lot and people can choose their torrent client according to their preferences.
Topic Summary
Here Are A Quick List Of The Best uTorrent Alternatives