The 12 Best Free and Paid Video Editing Apps for Android (Update: May 2023)
In this blog post, we will send you the list of 12 Best Video Editing Apps for Android in 2022, Free and Paid both options are there.
Video editing apps are very helpful tools; they allow people to edit their videos without using advanced computer software. All you have to do is download them and then take complete benefits of the app.
Whether you are a YouTuber or a professional video editor, or someone who wants to show their video on social media, these video editing apps for Android can be useful. Many of the apps are free to use, so they are affordable.
The number of video editing apps for Android is increasing day by day, so choosing the perfect one for you which will be worthy of your time is not easy.  You have to go through reviews and the functions of a particular app to choose the best app for you.
After some research, a list is made of the best video editing apps for Android.
Best Free Video Editing App for Android (Paid as well)
As the quality of the camera available on Android phones increases day by day, the need for quality video editing apps increases.
1.

PowerDirector (4k video editing app for Android)
Overall this app is great for editing videos.
Benefits of PowerDirector:
You can use this app and export your videos up to 4k quality.
Fast-forward and slow-motion videos are very much on-trend nowadays. You can edit both in this app.
Due to shaky hands or other disruptions, videos lose their stability by using the video stabilizer; one can fix it.
If you are a YouTuber, your title needs to be attractive. You can use animated titles available to produce an eye-catching video.
You can change the background.
Exciting overlays and modes like double exposure are available in this app.
This app is free to download and easy to use. You can edit your videos smoothly. The premium version is affordable too, and it offers more professional features.
2.
EasyCut
EasyCut is a powerful video editing tool that enables users to create stunning videos with ease.
Benefits of using EasyCut:
It is the perfect tool for content creators, vloggers, and influencers who want to make their videos stand out from the crowd.
With EasyCut, users can easily edit and enhance their videos with features like scene transitions, text overlays, and music tracks.
They can also add effects such as filters, stickers, and animations to make their videos even more engaging.
With its intuitive user interface and powerful features, EasyCut makes it easy for users to create incredible videos quickly.
Also, this app is free to use but provides advanced features like color grading. If you want more advanced tools you can get them through in-app purchases.
The app often becomes laggy and one has to wait a bit longer to download their videos even after having a good Internet connection. Despite being laggy occasionally this app deserves a try and is counted among best video editing apps.
3.

Kinemaster Video Editor
If you have experience in video editing, this app can be the one for you.
Perks of Kinemaster Video Editor:
You can crop the frame of your video by frame and eliminate the unwanted items in the frame.
Make your videos more attractive using multi-layered effects.
Several audio presets are accessible.
You can also perform keyframe animation – A shot or drawing that interprets the start and end of a steady transition is called keyframe animation.
You can experience professionalism in video editing through this app.
4.

Magisto
An easy-to-use app for video editing.
Benefits of using Magisto:
The templates are easy to use, even for beginners. So you can have a hassle-free experience.
Automatic in nature, so good for beginners.
A free video pro subscription to the app is available.
The reason I rated it 8 is because of the visible watermark, which can only be removed by a premium subscription. Also, the 4K export option is not available. But you can give it a try and edit videos easily by just choosing the clips and photos.
5.

FilmoraGo
An app that has a well-designed interface.
Benefits of FilmoraGo :
Serves you an Outstanding editing interface.
Has ample tools to choose from.
The store options in this app are the cherry on top.
You can avail of this app on multiple platforms.
Although this app is good, it has a few problems, like the additional features are limited, and the effects are not edited. It might not be the best, but an app you can give a try.
6.

Inshot (best video editing app for Android without a watermark for youtube)
This is an app used by many reel makers and YouTubers.
Perks of Inshot App:
You will get the option to trim or split a video in this app.
You can easily merge two different clips.
You can even adjust the audio volume; it has options like fade in and out.
Lots of interesting effects to choose from.
You can also do color correction.
One of the drawbacks it has is you can't undo your actions, so you have to edit again. Also, the ads can be annoying, so I rated it 9. Overall, if you are a beginner, you can easily operate this app.
7.

Video Show (best free video editing app for Android)
This is an app suitable for both beginners and professionals.
Video Show Benefits are below:
It has an audio extractor that helps you extract clear audio from any other video.
You can choose your desired template and upload videos and photos, and the video will be made automatically.
4k export facility.
You can also add voiceovers.
Wide variety of fonts for texts.
You can shoot videos using this app.
It has a watermark that won't go until you are a VIP user. Also, higher-quality videos can not be edited in the app's free version. If you are a music video maker or a beginner, this app will be perfect.
8.

PicPlayPost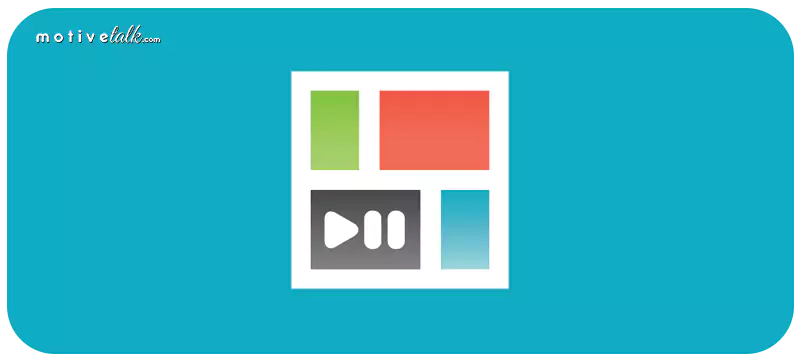 Make video collages like photo collages with this app.
Benefits are:
You can make slideshows combining photos and videos.
Access free music for your video.
You can share your videos in 1080P HD.
You can trim videos.
A variety of video collage layouts is available.
Support all formats of media.
Copy-pasting texts from other apps is also unavailable; there are many exciting and needed features that you will get only in the paid version. Videos will have watermarks too, so I rated them 7. To conclude, it's easy to use the app so that you can try it.
9.

Vita
An app to let you follow the trend.
Benefits of using Vita
This app has a text-to-speech feature in it. To add audio to your video by just typing.
You can choose the cover image for your video.
Has a vast collection of aesthetic filters.
Lots of premade fonts.
You can also make clone videos.
There are some problems that arise when someone tries to add their own music from files. Saved videos sometimes have issues. The app crashes in case of a long editing process. So I rated it 8. It's a great app for making social media videos overall.
10.

Viva Video (Best free video editing app for Android)
Best for impressive features for editing.
Viva Video perks are:
Provides you with advanced editing features.
You can directly share your edited video on social media platforms.
You can edit your slow-motion videos.
A wide variety of themes is available.
You can merge clips.
The app is good to go, except sometimes it glitches a lot, and if you are using it for free, the ads can be annoying.
11.

Vlog Video Editor Maker
If you are into vlogging, this app can be the one you need.
Benefits are:
You can trim or cut videos according to your desire.
You can crop videos with just a click.
Very easy to use.
You can add subtitles.
Get free music for vlogs.
Variety of effects like glitch and blur.
Allows HD export.
But the one issue this has is sometimes when you export your edited video the audio does not sync with the video. When the app works fine, it is one of the best for vlogs.
12.

Vlog Star
Perks are below:
Edit your youtube videos and make them attractive.
Copy a clip or delete it with this app.
Aesthetic filters are available.
Wide collection of templates for the intro.
Green screen edit is supported.
You can record videos using this app.
The negative part is it does not offer such facilities in its free version. Sometimes the app gets closed. Watermarks can not be removed in the free version.
Benefits Of Editing By Smartphone
One should prefer video editing apps for Android over the computer because:
You can carry your mobile everywhere so you can edit your videos anytime anywhere. If you need to make an urgent presentation you can do it easily. In Fact, you don't have to miss uploading videos to your social account just because you are out of the station.
Using complicated software on computers is sometimes way too much for a beginner. So a beginner can set their hands on the Android apps first.
Mobile editing is much cheaper compared to software to edit videos on a computer.
Conclusion

Editing video is one of the heavy tasks performed by a device. If you want to edit video on a computer it will need reasonable specs, large amounts of RAM and storage and also a lot of knowledge and practice. A phone can not give polished videos like a computer but nowadays, the advanced apps for Android are doing pretty well and the videos can be edited professionally enough to make vlogs or videos for social media, etc. Video editing is very important to blend videos and music properly.
FAQs
Q1. How to edit videos using video editing apps for android?
Answer:
Select your desired video. (You can also select photos or multiple videos)
If you have selected multiple videos, arrange them in the sequence you want.
Crop the video if needed.
Apply the filters and effects by clicking on the clips in which you want effects.
Save the video once it's done.
Export the video to any social app if needed.
Q2. How long does it take to edit a video using video editing apps for android?
Answer:
Video editing is a type of work that can take as little as 10 mins to even 1 hour. Time taken to edit a video depends on the application you are using, your experience, and your technical skills. If you want to just cut or crop a video it will hardly take a few minutes, but if you want to make a presentable vlog, it can take around 20 to 30 mins.
For professional editing, it can even take a longer time, like if you want to sync music with your video or want to merge videos.
Q3. Tips to make a better video?
Answer:
Cut the unnecessary scenes and keep the video to the point.
Choose the track that matches the energy of your video.
Adjust the audio sound and don't keep it much lower or higher.
Always keep a backup of the video.
Make sure the transitions in the video are not distracting like flash transition or shake transition.