Powerful Sam Walton Quotes from Encourage Your Positive Mindset
This post is all about Sam Walton Quotes and his life.
Samuel Moore Walton was born on March 29, 1918, in Kingfisher, US. Thomas Gibson Walton and Nancy Lee his parents were farmers and the family income was never enough to feed everyone in the family so his father shifts his career and went into mortgaging.
The family used to shift from one small village to another one to find jobs. When Samuel was in 8th Grade he became the youngest scout of the Eagle Scout and was recorded as the youngest scout of the state.
He was a very good student but due to families poor financial condition, he used to do part-time jobs along with his studies to meet the financial requirements of the family.
He got a degree in economics from the University of Missouri to get better earning opportunities for his family. He worked as a trainee at J.C Penny for 18 months and quit the job to join the army during World War II. While serving in the army he reached the position of a captain.
After the war, he took a loan of $20,000 from his father-in-law and purchased a Ben Franklin store on a lease, and turned it into a profitable business. During his 3 year work in that store, he made many important concepts which later on helped him in his success.
He would always keep shelves full of goods and offered better goods at a better price. He always kept his employees happy and pay them wages on the hour all these lessons, later on, helped him in expanding the business and establishing Wal-Mart.
He established his second small store in  Bentonville on a lease of 99 years so that he did not give up on his business like last time. On, every step his wife Helen Robson stood by his side whom he married in 1943 and the couple was blessed with four children.
He had a very keen business mind, he started expanding business with his family where his brother and eldest son S.Robson Walton used to help him manage the next five stores he opened and turning each one successful.
Later on, he started expanding to other regions and he had a very concept that he encouraged the managers to buy the equity shares so that they take care of the business not as an employee but as an owner. His concept was successful and helped him to establish Wal-Mart chains all around the world.
He used to pay surprise visits to different chains and would encourage the local workers and learn new ideas from them which could be implemented in other stores also. His innovative techniques and ideas ultimately led to the rise of Wal-Mart.
The greatest entrepreneur of all time took his last breath on April 5, 1992, due to blood cancer. After his death, he had left everything to his wife and children as a legacy. His son  Rob Walton took over his place as a chairman and his other son John Walton took care of the company as a director.
T
o
p
3
5
F
a
m
o
u
s
S
a
m
W
a
l
t
o
n
Q
u
o
t
e
s

"Appreciate everything your associates do for the business."
― Sam Walton Quotes 
"I am just trying to get ideas, any kind of ideas that will help our company."
― Sam Walton
"Outstanding leaders go out of their way to boost the self-esteem of their personnel. If people believe in themselves, it's amazing what they can accomplish."
― Sam Walton Quotes
"You can learn from anybody and everybody."
― Top Sam Walton Quotes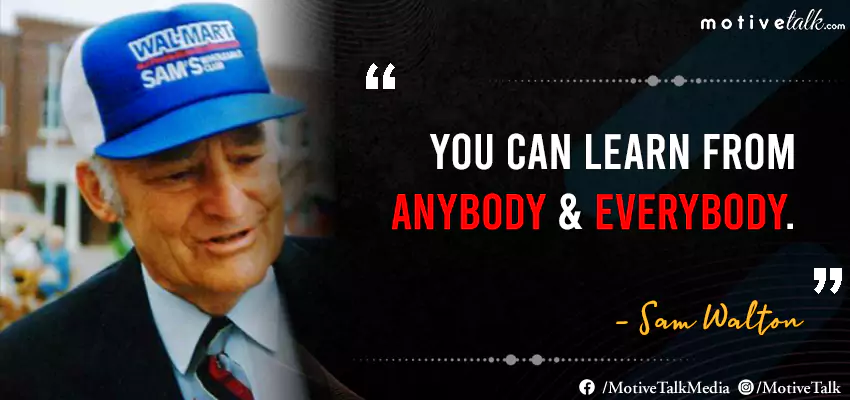 "Great ideas come from everywhere if you just listen and look for them. You never know who's going to have a great idea."
― Sam Walton Quotes 
"We let folks know we're interested in them and that they're vital to us. Cause they are."
― Sam Walton
"You can make a lot of mistakes and still recover if you run an efficient operation. Or you can be brilliant and still go out of business if you're too inefficient."
― Sam Walton Quotes
"Lose your smile and lose your customers."
― Top Sam Walton Quotes
"Business is a competitive endeavor, and job security lasts only as long as the customer is satisfied. Nobody owes anybody else a living."
― Sam Walton Quotes 
"Ignore the conventional wisdom. If everybody else is doing it one way, there's a good chance you can find your niche by going in exactly the opposite direction."
― Sam Walton
"I had to pick myself up and get on with it, do it all over again, only even better this time."
― Sam Walton Quotes
"Individuals don't win in business, teams do."
― Top Sam Walton Quotes
"Leaders must always put their people before themselves. If you do that, your business will take care of itself."
― Sam Walton Quotes 
"The way management treats associates is exactly how the associates will treat the customers."
― Sam Walton
"Keep everybody guessing as to what your next trick is going to be. Don't become too predictable."
― Sam Walton Quotes
"If you don't listen to your customers, someone else will."
― Top Sam Walton Quotes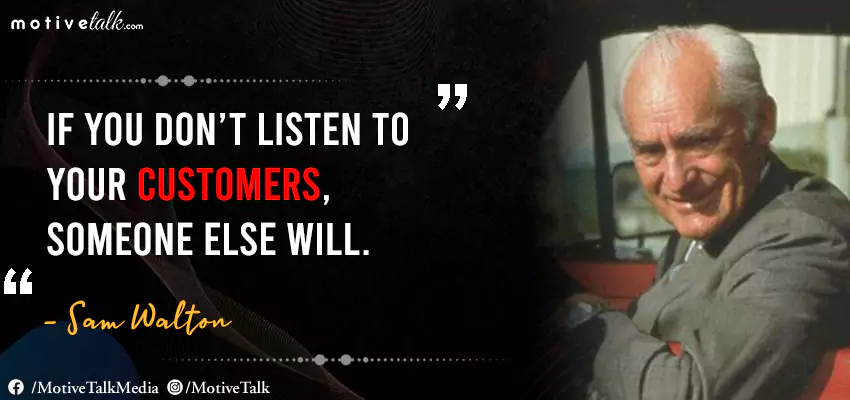 "The two most important words I ever wrote were on that first Walmart sign, 'Satisfaction Guaranteed.'"
― Sam Walton Quotes 
"Nothing else can quite substitute for a few well-chosen, well-timed, sincere words of praise. They're absolutely free and worth a fortune."
― Sam Walton
"Share your profits with all your associates, and treat them as partners. In turn, they will treat you as a partner, and together you will all perform beyond your wildest expectations."
― Sam Walton Quotes
"To succeed in this world, you have to change all the time."
― Top Sam Walton Quotes
"All that hullabaloo about somebody's net worth is just stupid, and it's made my life a lot more complex and difficult."
― Sam Walton Quotes 
"A town of less than 50,000 population cannot support a discount store for very long."
― Sam Walton
"Give ordinary folk the chance to buy the same things as rich people."
― Sam Walton Quotes
"High expectations are the key to everything."
― Top Sam Walton Quotes
"A computer can tell you down to the dime what you've sold. But it can never tell you how much you could have sold."
― Sam Walton Quotes 
"I have always been driven to buck the system, to innovate, to take things beyond where they've been."
― Sam Walton
"One person seeking glory doesn't accomplish very much."
― Sam Walton Quotes
"Control your expenses better than your competition."
― Top Sam Walton Quotes
"We take the best ideas from someone else."
― Sam Walton Quotes 
"There is only one boss, the customer. And he can fire everybody in the company from the chairman on down, simply by spending his money somewhere else."
― Sam Walton
"I learned a long time ago that exercising your ego in public is definitely not the way to build an effective organization."
― Sam Walton Quotes
"Commit to your business. Believe in it more than anybody else."
― Top Sam Walton Quotes
"If you love your work, you'll be out there every day trying to do it the best you possibly can, and pretty soon everybody around will catch the passion from you, like a fever."
― Sam Walton Quotes 
"There's a lot more business out there in small-town America than I ever dreamed of."
― Sam Walton
"Capital isn't scarce. Vision is."
― Top Sam Walton Quotes
L
a
s
t
F
e
w
W
o
r
d
s
A
b
o
u
t
S
a
m
W
a
l
t
o
n
The man's life is a true story of a hardworking man who lived a life of 'Rags to Riches'.We hope his quotes have inspired you a lot. Don't forget to share these quotes with family.