Mark Zuckerberg Quotes – The Ultimate Confidence Booster
In this blog post, you will get Mark Zuckerberg Quotes and Short Biography.
Co-founder of Facebook, business tycoon, and philanthropist Mark Zuckerberg is a name that needs no introduction. His technological vision has brought a revolution in the field of social media. He is the youngest self-made billionaire and is listed on the Forbes magazine.
Born on 14 May 1984, in a Jewish Family in New York, U.S. His father Edward Zuckerberg is a dentist by profession and his mother Karen is a psychiatrist by profession. He is the only son of the couple who has three daughters Randi, Donna, and Arielle.
In 2004 he launched Facebook while studying at Harvard which was a directory in which the students entered their photos and personal information. His roommates Dustin Moskovitz and Chris Hughes also started working along with him in his project and started adding features to the basic template designed by him.
Facebook was different from other social media sites at that time as it insisted its users to add their original emails and photos. The "social graph" concept introduced by Mark Zuckerberg made a network to add not only friends but also suggested friends of friends for adding in your account.
In May 2005, Facebook received its first initial capital investment of 12.7million and was later opened to high school students for registration. Microsoft bought a 1.6% share on Facebook at the cost of $240 million and Digital Sky Technologies bought a 1.96% share for $200 million.
Mark Zuckerberg is considered an entrepreneur of technology. He owns many other technological platforms like Internet.org which provides internet to people who find it difficult to access. Breakthrough star shot is a spacecraft that is designed by Solar Sail a company co-founded by Zuckerberg.
Mark Zuckerberg is the only person under 50 who got a place in the Forbes Magazine of the ten richest people in the people as of 2019. Time magazine has also included him in the list of 100 most influential and powerful persons of the world.
Mark Zuckerberg married his long time girlfriend, Priscilla Chan in 2012, he even took lessons in Mandarin to prepare his visit to China to meet her parents. They are blessed with two beautiful daughters, Maxima Chan Zuckerberg born in December 2015, and August born in 2017 in August. Their family dog Beast has got over two million followers on Facebook.
27 Motivational Mark Zuckerberg Quotes
"Unless you are breaking stuff, you are not moving fast enough." ― Mark Zuckerberg Quotes
"By giving people the power to share, we're making the world more transparent." ― Mark Zuckerberg Quotes
"When you give everyone a voice and give people power, the system usually ends up in a really good place. So, what we view our role as, is giving people that power." ― Mark Zuckerberg
"Move fast with stable infrastructure." ― Mark Zuckerberg
"People think innovation is just having a good idea but a lot of it is just moving quickly and trying a lot of things." ― Mark Zuckerberg Quotes
"If you just work on stuff that you like and you're passionate about, you don't have to have a master plan with how things will play out." ― Mark Zuckerberg
"If you're always under the pressure of real identity, I think that is somewhat of a burden." ― Mark Zuckerberg
"The real story of Facebook is just that we've worked so hard for all this time. I mean, the real story is actually probably pretty boring, right? I mean, we just sat at our computers for six years and coded." ― Mark Zuckerberg
"People can be really smart or have skills that are directly applicable, but if they don't really believe in it, then they are not going to really work hard." ― Mark Zuckerberg Quotes
Few Powerpack Mark Zuckerberg Quotes Are Below
"Entrepreneurship is about creating change, not just companies." ― Mark Zuckerberg
"I'm here to tell you finding your purpose isn't enough. The challenge for our generation is creating a world where everyone has a sense of purpose." ― Mark Zuckerberg Quotes
"A lot of people are focused on taking over the world or doing the biggest thing and getting the most users. I think part of making a difference and doing something cool is focusing intensely." ― Mark Zuckerberg
"The question I ask myself like almost every day is, 'Am I doing the most important thing I could be doing?" ― Mark Zuckerberg
"I got my first computer in the 6th grade or so. As soon as I got it, I was interested in finding out how it worked and how the programs worked and then figuring out how to write programs at just deeper and deeper levels within the system." ― Mark Zuckerberg
"I think a simple rule of business is, if you do the things that are easier first, then you can actually make a lot of progress." ― Mark Zuckerberg
"I'm here to build something for the long-term. Anything else is a distraction." ― Mark Zuckerberg
"I think that people just have this core desire to express who they are. And I think that's always existed." ― Mark Zuckerberg
"So many businesses get worried about looking like they might make a mistake, they become afraid to take any risk. Companies are set up so that people judge each other on failure." ― Mark Zuckerberg
"You get a reputation for stability if you are stable for years." ― Mark Zuckerberg
"The Hacker Way is an approach to building that involves continuous improvement and iteration. Hackers believe that something can always be better, and that nothing is ever complete." ― Mark Zuckerberg
"The companies that work are the ones that people really care about and have a vision for the world so do something you like." ― Mark Zuckerberg Quotes
Last 6 inspiring Mark Zuckerberg Quotes Are Below
"Move fast and break things. Unless you are breaking stuff, you are not moving fast enough.." ― Mark Zuckerberg
"Once you have a product that you are happy with, you the need to centralize things to continue growth." ― Mark Zuckerberg
"Our goal is not to build a platform, it's to be cross all of them." ― Mark Zuckerberg Quotes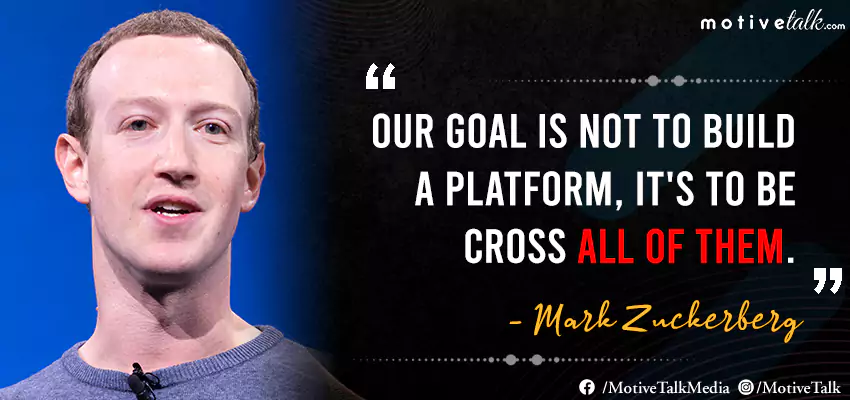 "A squirrel dying in front of your house may be more relevant to your interests right now than people dying in Africa." ― Mark Zuckerberg
"Facebook was not originally created to be a company. It was built to accomplish a social mission – to make the world more open and connected." ― Mark Zuckerberg
"I just think that VR and AR are going to be a really big deal." ― Mark Zuckerberg Quotes
"All 27 Best Mark Zuckerberg Quotes Are Above.
Final Words About Mark Zuckerberg Quotes
Mark Zuckerberg was considered an atheist for a very long time but his views have changed now and he believes that religion is very important and plays a crucial role in one's life. He is one of the most powerful people who highly influence social media.
I hope these inspiring Mark Zuckerberg Quotes are motivating you.
Mark Zuckerberg's Net Worth
Facebook became public in 2012 and after that Mark Zuckerberg's net worth has been estimated to be more than $19 billion. The Hollywood movie "Social Network" was designed around Mark Zuckerberg's life as a Harvard student and his journey and difficulties he faced while founding Facebook. Currently $36.4B according to Forbes.
Which one is your favorite Mark Zuckerberg Quotes? Please comments below.
Mark Zuckerberg's Social handles are: Like him on Facebook, follow his Instagram account.
[pullquote]Elon Musk Quotes – Every Entrepreneur Should Read Once[/pullquote]
[pullquote]Warren Buffett Quotes – That Will Inspiring Everyone[/pullquote]
[pullquote]Jeff Bezos Quotes – Every Business Man Must Read[/pullquote]