Top Most Outrageous Kim Jong-un Quotes That Give A Glimpse Of His Mind
Hi Readers! Today we are gonna share the Supreme Leader of North Korea, Kim Jong-un Quotes, and also a short biography of Kim Jong-un.
Kim Jong-un is a very popular name and one must have come across his name at least once.
He took birth in the year 1984 on the 8th of January. His place of birth is Pyongyang located in the Democratic People's Republic of Korea. His zodiac sign is Capricorn.
Kim Jong-un is the youngest son of Kim Jong-il and Ko Yong-hui who was his third wife. His mother was an opera singer who took her last breath in 2004.
According to reports, he got his education completed at the International School of Berne in Gümligen situated in  Switzerland. He also attended college at Kim II-Sung National War College Pyongyang of Pyongyang situated in North Korea.
Kim Jong-II had a liking toward Kim Jong-Un and used to see a reflection of his temperament on him. Kim Jong-Nam decided to be the successor of his father in the beginning but things changed when he lost his reputation when he tried to visit Disneyland illegally. Kim Jong-II started to prepare Kim Jong-un to be his successor after this incident.
When his father took his last breath in the year 2011 in December the state declared Kim Jong-un the 'Great Successor. Kim Jong- unmade his place in the highest decision-making body i.e Presidium of the Politburo of the Workers' Party. Kim Jong-un holds several titles among which some are – General Secretary of the Workers Party of Korea and President of State Affairs.  He got a promotion in July 2012 and became the Marshal in the Korean People's Army.
During his early years of rule, the nuclear weapons program of North Korea took a sharp rise. Kim Yo-jong, the younger sister of Kim Jong-un, helps Kim Jong-un to maintain his public image and also arranges public events for his benefit. After two years of gaining power Kim Jong-un, the great North Korean leader announced the execution of his uncle. This decision was made because Jang Song Thaek, his uncle, was making plots to overthrow the government. This incident is declared one of the major purges in the history of North Korea.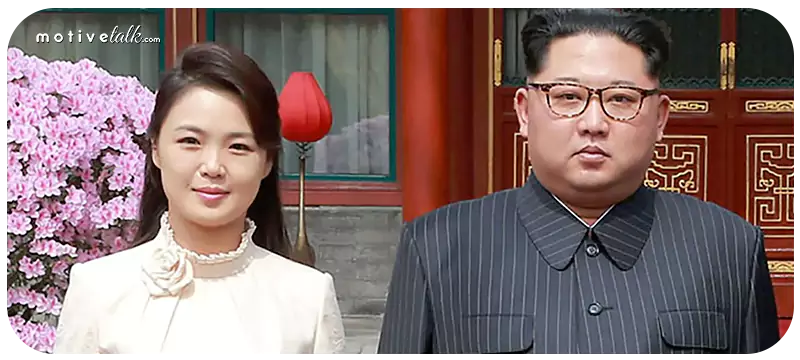 Ri Sol-Ju who was around 20 years old during the time of her marriage to Kim Jong-un became The First Lady of North Korea. Their marriage was a hasty one and was decided after Kim Jong-un was suffering from health issues. They got married in 2009. According to reports, they have had three children together till now.
Top 23 Famous Kim Jong-un Quotes
"In the days of the anti-Japanese revolutionary struggle, our women waged a bloody struggle with weapons in their hands to liberate their country."
― Kim Jong-un Quotes
"Compared to 10 years ago the primary motivation for defection has gone from food, to freedom."
― Kim Jong-un
"All Party organizations should maintain implementing the Party's lines and policies as the major line of Party work, and carry every one of them to completion unconditionally."
― Kim Jong Un Quotes
"In order to develop the country's sports in line with the great leaders' ideas and plan of developing Juche-based sports, our Party directs great efforts to the work of the sports sector."
― Kim Jong Un
"There can be neither today without yesterday nor tomorrow without today."
― Top Kim Jong-un Quotes
"The great leaders called the working class first whenever difficult and gigantic tasks arose for the revolution, and ushered in fresh heydays of the revolution by relying on them."
― Kim Jong-un Quotes
"Construction is an important front for solidifying the foundations of a thriving country and creating bases for the people's happy life."
― Kim Jong-un
"The political and military position of socialism should be further cemented so that it can be an impregnable fortress."
― Kim Jong Un Quotes
"When young people are powerful, our Party and People's Army are powerful, and there is nothing for us to be afraid of."
― Kim Jong Un
"We should improve economic guidance and management as demanded by the developing reality."
― Top Kim Jong-un Quotes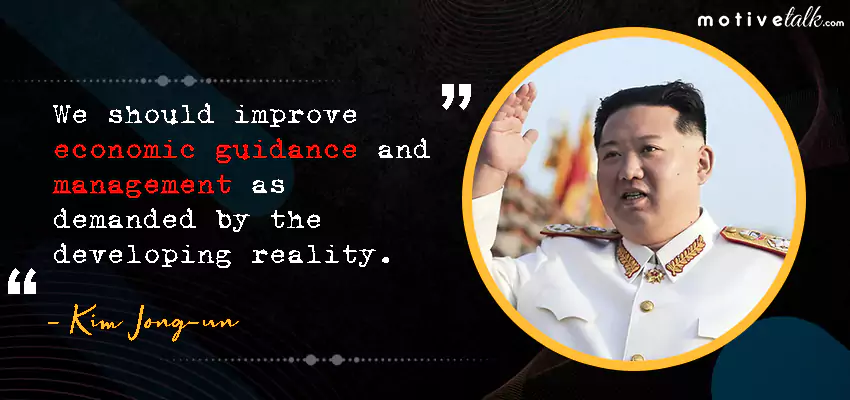 "There is nothing that our party failed to do when it trusted the soldiers and people, and a more resplendent future is unfolding before us today."
― Kim Jong-un Quotes
"Forests are precious resources of the country and a wealth to be handed down to posterity."
― Kim Jong-un
"Kim Il-sung University is the central base for training national cadres and the highest institute of Juche-based science and education."
― Kim Jong Un Quotes
"Developing the locally-run industry is very important in increasing the production of consumer goods."
― Kim Jong Un
"Our women's union members and other women are really excellent and praiseworthy."
― Top Kim Jong-un Quotes
"Past records of inter-Korean relations show that confrontation between fellow countrymen leads to nothing but war."
― Kim Jong-un Quotes
"Success in the revolution and construction depends on how a party, the General Staff of the revolution, is built and on how its leadership role is enhanced."
― Kim Jong-un
"Our cause is just, and the might of Korea that is united with truth is infinite."
― Kim Jong Un Quotes
"The revolution is carried out by means of one's thought."
― Top Kim Jong-un Quotes
"The entire United States is within range of our nuclear weapons, and a nuclear button is always on my desk. This is reality, not a threat."
― Kim Jong-un Quotes
"The days are gone forever when our enemies could blackmail us with nuclear bombs."
― Kim Jong-un
"Our republic is a responsible nuclear state that, as we made clear before, will not use nuclear weapons first unless aggressive hostile forces use nuclear weapons to invade on our sovereignty."
― Kim Jong Un Quotes
"Want to know what's more destructive than a nuclear bomb? Words."
― Top Kim Jong-un Quotes
F
i
n
a
l
W
o
r
d
s
A
b
o
u
t
K
i
m
J
o
n
g
–
u
n
He hardly had any knowledge of political and military affairs when his father died but he immediately got declared the successor. He groomed himself and became a great later. His grooming started in 2008. Many people developed the idea that he might have to share his powers to rule the country properly but as time passed he stood up on his own feet. Under the reign of this young leader, North Korea is keeping up great and has not collapsed or opened up. During the tough times of Covid-19, they faced issues like other countries but that could not shake the confidence of Kim Jong-un.