Powerful Colin Powell Quotes To Inspire The Leader Within You
We are here to share some of Colin Powell Quotes and his short biography.
Colin Luther Powell was born on 5 April 1937 in Harlem in New York City. His parents Maud Arial and Luther Theophilus Powell were Jamaican immigrants. He worked as an active soldier in the army for 35 years on the ranks varying from command to staff positions and retiring as a General of the army.
His autobiography released in the year 1995, My American Journey is a 600-page book that describes his journey from the Vietnam war and the ups and downs he faced during his 35 year service period in the American Army and how he reached the position of a four-star General.
In, 1962 he married Alma Johnson and the couple has been blessed with a boy and two daughters. The couple's son Michael was the former chairman of the FCC and their daughter Linda is an American actress. In, the year 2011 the couple was named as National Education Policy Leader of the year.
He was the first American-African in 2000 to be appointed as the Secretary-General in 2000 by President George Bush. It was the highest position held by any mixed-race person at that time. HE stayed in the office for the next five years and is known for making important policies during that time.
Many institutions have been named after him and he holds degrees from many prestigious colleges across the U.S states. During his lifetime he received many awards and won two Presidential Medal for Freedom.
He is a visionary man and in his book, he inspires people to always do their best as even if they don't know someone is always watching and analyzing their work. Even small work has its importance so always give your 100% when working on any project.
The principle to success is managing your skills properly and updating yourself on regular basis. Always keep yourself steady in the high and low phases of life because these situations define you. Your actions taken in every situation makes you the person who you are today.
He always inspires people to follow their inner voice because even after a lot of digging, the facts and figures are not always significant enough to make decisions. Sometimes even the most well-planned attacks fail, you should always analyze the situation quickly and decide in real-time.
There are billions of analysts in the field who know the solution to your problems theoretically but never take their advice too seriously. These people lack in practical analysis and can never be a leader.
He has always inspired and advised the people that a true leader always listens to the problems of the people working under him. When people stop sharing their problems with their leader you can easily presume that they have stopped seeing you as their leader.
T

o

p

 

3

5

 

F

a

m

o

u

s

C

o

l

i

n

P

o

w

e

l

l

Q

u

o

t

e

s
"Control enthusiasm in the face of victories, large or small."
― Colin Powell Quotes
"The healthiest competition occurs when average people win by putting above average effort."
― Colin Powell
"Keep looking below surface appearances. Don't shrink from doing so just because you might not like what you find."
― Colin Powell Quotes
"Organization charts and fancy titles count for next to nothing."
― Colin Powell
"There are no secrets to success. Don't waste time looking for them."
― Top Colin Powell Quotes
"Perpetual optimism is a force multiplier."
― Colin Powell Quotes
"You don't know what you can get away with until you try."
― Colin Powell
"No battle plan survives contact with the enemy."
― Colin Powell Quotes
"Don't bother people for help without first trying to solve the problem yourself."
― Colin Powell
"I'm not perfect, but I'll be the creator of perfection."
― Top Colin Powell Quotes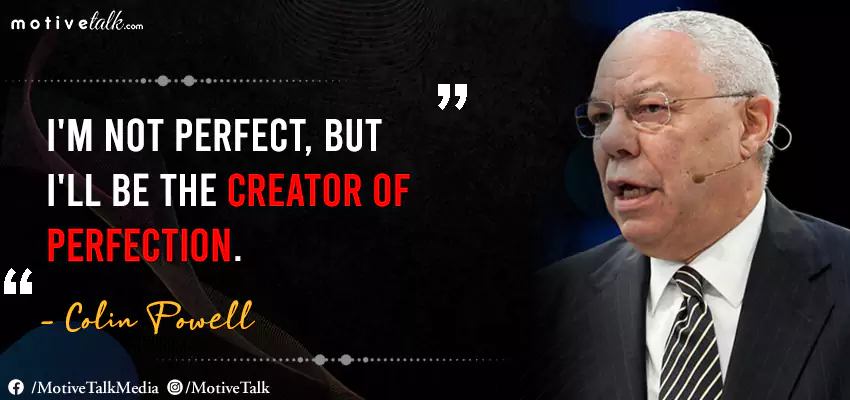 "Success is the result of perfection, hard work, learning from failure, loyalty to those for whom you work, and persistence."
― Colin Powell Quotes
"If you are going to achieve excellence in big things, you develop the habit in little matters. Excellence is not an exception, it is a prevailing attitude."
― Colin Powell
"Great leaders are almost always great simplifiers who can cut through the argument debate and doubt to offer a solution everybody can understand."
― Colin Powell Quotes
"Never neglect details."
― Colin Powell
"Never believe the first thing you hear."
― Top Colin Powell Quotes
"The ties that bind us are stronger than the occasional stresses that separate us."
― Colin Powell Quotes
"You can't just have slogans, you can't just have catchy phrases. You have to have an agenda."
― Colin Powell
"War should be the politics of last resort."
― Colin Powell Quotes
"Trying to get everyone to like you is a sign of mediocrity."
― Colin Powell
"All work is honorable. Always do your best because someone is watching."
― Top Colin Powell Quotes
"Never let your ego get so close to your position that when your position goes, your ego goes with it."
― Colin Powell Quotes
"90% of my time is spent on 10% of the world."
― Colin Powell
"When we go to war, we should have a purpose that our people understand and support."
― Colin Powell Quotes
"If a leader doesn't convey passion and intensity then there will be no passion and intensity within the organization and they'll start to fall down and get depressed."
― Colin Powell
"Surround yourself with people who take their work seriously, but not themselves."
― Top Colin Powell Quotes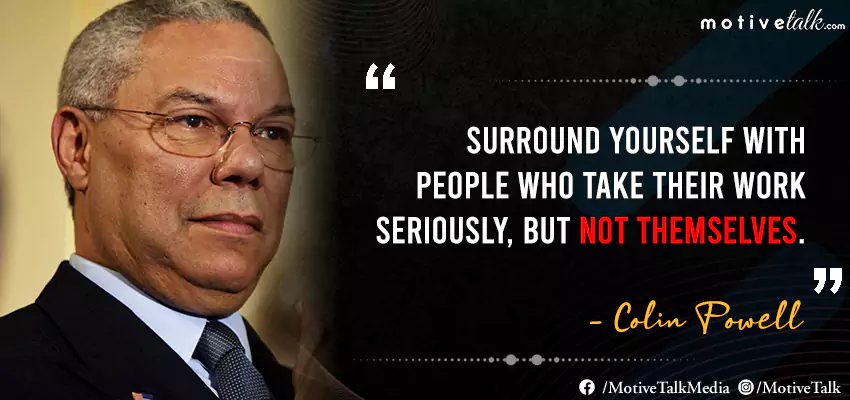 "Being responsible sometimes means pissing people off."
― Colin Powell Quotes
"There is no end to the good you can do if you don't care who gets the credit."
― Colin Powell
"I try to be the same person I was yesterday."
― Colin Powell Quotes
Last 7 Colin Powell Quotes are below
"It's a disgrace that we have millions of people who are uninsured."
― Colin Powell
"Always focus on the front windshield and not the rearview mirror."
― Top Colin Powell Quotes
"Politics is not bean bags. It's serious, tough stuff."
― Colin Powell Quotes
"Experts often possess more data than judgment."
― Colin Powell
"It takes more courage to send men into battle than to fight the battle yourself."
― Colin Powell Quotes
"If you get the dirty end of the stick, sharpen it and turn it into a useful tool."
― Colin Powell
"Get mad, then get over it."
― Top Colin Powell Quotes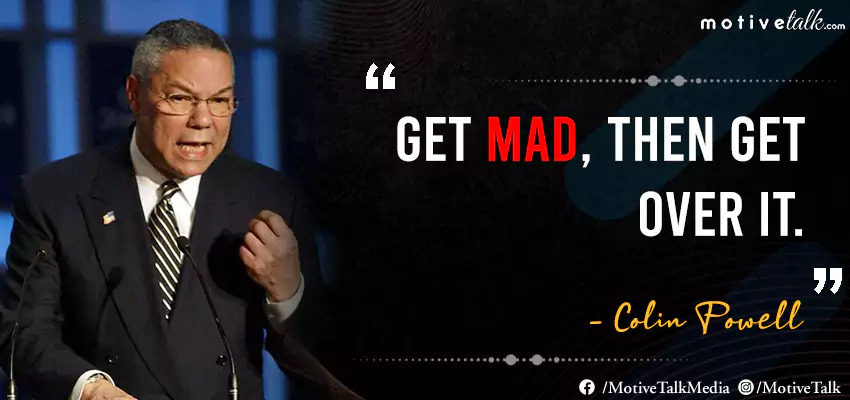 Last Few Words About Colin Powell
Collin Powell is a living legend, even in 80's his energy and enthusiasm can give an edge to youngsters. He is born with a mindset of a leader and his words reflect his mindset. We hope his words inspire you also, don't forget to share them with family and friends.