PDF Drive: Top 28 Alternatives to PDF Drive in 2023 (Update: July)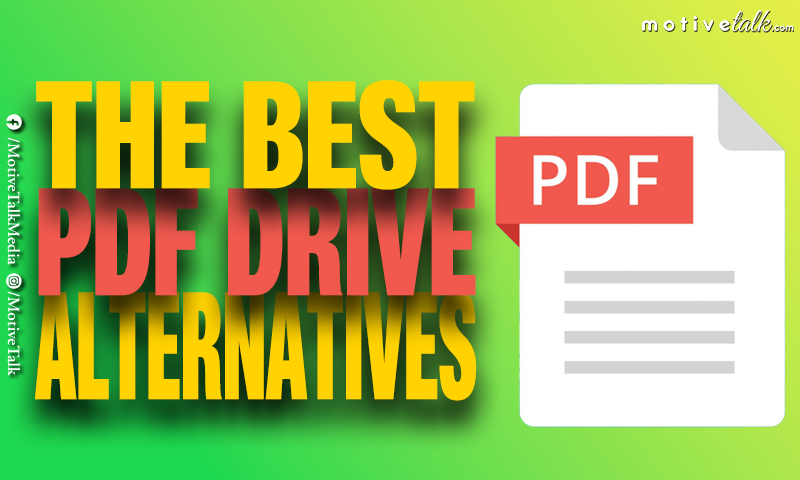 Are you searching for Alternatives to PDF Drive? Then your search ends today!
The rapid growth in digital reading has given rise to many online e-book sites, and people search, read and download books of their choice for free on these websites without even buying them.
E-books are electronic books that have a huge collection based on various topics, subjects, languages, etc.
If you are a bookworm and love to read books, you must know these facts about the different e-book platforms.
What is PDF Drive?
PDF stands for Portable Document Format. The PDF Drive is a free search engine on the internet, where you can search, view, read, and download billions of PDF files to your device. This site can be used to get access to various e-books.
PDF Drive has more than 75 million e-books on its site that are free of cost. On the site, you can filter your search by page numbers, popularity, publication date, download size, etc.
It also gives suggestions based on your past searches. They also have an Android application that you can download for free to enjoy reading more conveniently.
About PDF Drive accounts
The PDF Drive site provides both free and paid accounts:
The free account is enough to download books, see the descriptions of the files and the cover picture of the book. This free account gives you 100MB of "My Drive" storage space where you can make your directory of PDF Drive.
The premium account includes all the features of the free account and additional exclusive features that the premium account holders can only access.
The cost of the paid version is USD 3.99 per month and USD 29.99 per year. This account offers features such as an ad-free interface, unlimited "My Drive" storage, and faster download speed.
The subscription plans provide a seven-day free trial, and in these seven days, you can cancel your subscription to avoid any payment.
Why opt for alternatives to PDF Drive?
When you visit the PDF Drive site, you may get annoyed by the advertisements that always pop up on the screen. .
So, if you are searching for some substitutes, here is a list of alternatives to PDF Drive, where you will get free PDF files and e-books just like PDF Drive:
28.
Freda
A free alternative to PDF Drive and an ebook reader is Freda. Turnipsoft Limited created this ebook reader. It provides a user-friendly platform for managing, reading, and sharing ebooks. It is an ebook reader that is only accessible through an Android or Microsoft smartphone.
On Freda, you may read the books you have downloaded for free. Additionally, the app provides free access to more than 50,000 classic books from online libraries like Feedbooks and Gutenberg. The following book file types are supported by the apps: TXT, HTML, FB2, MOBI, and EPUB.
Additionally, the software offers user-customizable controls, colors, fonts, annotations, and bookmarks; PDF Drive does not have this capability. Additionally, Freda contains a dictionary with a text-to-speech capability that allows you to seek up definitions and translations.
You may read books from online catalogs using Freda, as well as books from your own libraries stored on Calibre, OneDrive, or Dropbox.
27.
Oiipdf.com
Oiipdf.com is an online PDF converter, editor, and viewer that can help you manage all of your documents in one place. It allows you to easily convert PDFs into other formats such as Word, Excel, PowerPoint, and more. You can also use it to edit existing PDFs or create new ones from scratch. With Oiipdf.com you can quickly and easily share documents with others or store them for later use. Whether you're a student or a professional, Oiipdf.com has the tools you need to make managing your documents easier than ever before.
. With its intuitive user interface and powerful features, it makes it easy for anyone to create high-quality PDFs quickly and easily. It also provides a range of features such as merging multiple documents into one file, splitting pages into separate documents, adding watermarks and more. Oiipdf.com is the perfect solution for those who need to create professional-looking PDFs with ease and convenience. One can use this site as a pdf drive alternative.
26.
Pdfcoffee.com
Pdfcoffee.com is an online platform that helps you create, convert, and edit PDF documents. It offers an easy-to-use interface and a wide range of features that make it the perfect choice for anyone who needs to work with PDFs. With Pdfcoffee.com, you can easily create forms, merge documents, split pages into separate files, add watermarks and signatures to your documents, and much more. It also allows you to share your files with others by generating secure links or sending them via email. With its intuitive design and powerful features, Pdfcoffee.com makes it easy to manage all your PDF needs in one place!
Pdfcoffee.com is a powerful online PDF converter that allows users to easily convert files from and to PDF format. With Pdfcoffee.com, you can quickly and easily convert documents, images, presentations, spreadsheets and more into PDFs with just a few clicks. . Pdfcoffee.com makes it easy to create professional-looking documents that are ready for printing or sharing which makes is a good pdf drive alternative.
25.
OceanOfPDF
OceanOfPDF is a free site for easy and simple downloading of e-books. It offers a wide range of duplicate books of various categories in PDF and EPUB formats.
Signing up or membership registration or pop-ups are not required for reading the books.
24.
Read-AnyBook
ReadAnyBook is an open-source free e-book site on the internet. Here, you can discover 500000+ books, including great novels in PDF, EPUB, and FB2 formats, and read them anytime for free.
You can search books by their title or author name. Moreover, you can add more books to the site by publishing yours.
23.
Page by Page Books
Page by Page Books is a website that provides you with hundreds of classical books to read for free. The format of the books is page by page which is why it is named so. Just search for the title and start reading online. This platform provides a convenient way of reading because you can add bookmarks to the pages. So, if you read a few pages now, you can come back later, exactly to the same page. This makes the whole process of reading hassle-free.
22.
Kupdf
Kupdf is an excellent alternative to PDF Drive for sharing documents for free. It is an open platform where you can upload or share your articles live with other people.
The website also shows the top uploads every day, week, and month, which will help you know about the current trending books.
21.
BookGuru
Book Guru is an online children's library that is an excellent option for students studying in schools and colleges. This site provides free e-books based on computers, engineering, business, law, science, humanities, and other textbooks from which you can get many study materials.
Some of the books are in paid version, so you can choose from their membership plan to get access to those books. The platform has a child-centric approach so that every child gets recommendations of books that are perfect for them.
20.
eBook Lobby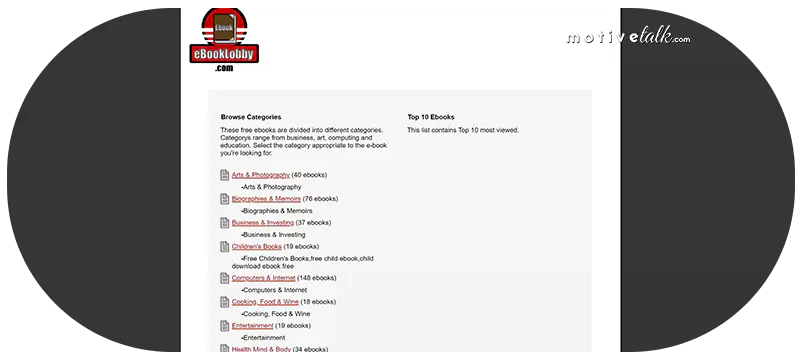 eBook Lobby is a site that offers free books based on various categories such as Art, Computer, Business, Investment, etc.
When you visit the site, first, you have to choose the appropriate category you are looking for and then search for the name of the book.
The site allows its users to discover, publish and discuss documents and writings in different languages.
19.
Library Genesis
Library Genesis is also known as Libgen. It provides you with free downloadable e-books, and you can also upload any e-book for free.
You can download books without registering yourself, and the book range starts from fiction to comics to non-fiction and other magazines, comics, audiobooks, and scientific articles.
18.
Z-Library
Z-Library is the world's biggest e-book library site and a great alternative to PDF Drive. Here, you will get articles and books of various genres such as suspense, romance, thriller, action novels, etc.
You can search for the book you are looking for, and if the book is not available, you can request to get it added to the site.
Also, if you want to share your article, you can send a link to it on the site, and it will be promoted to other members.
17.
Authorama
Authorama is an excellent site for classic and current books of various authors. Here, the books are arranged alphabetically with the author's last name.
They are written in XHTML and HTML formats, so they are convenient to read. Most of the books are in the English language and some are in the German language.
16.
Project Gutenberg
Project Gutenberg is a popular website for downloading various e-books for free. You can read many great literary works and other worldwide famous books.
The site gives the facility to search books using filters such as title, authors, language, subject, popularity, type, etc.
15.
Librivox
Librivox is a perfect match if you are searching for free audible books. Besides offering many textbooks and PDF files, this site also provides quality recordings of various books.
Unlike other websites, Librivox has a less number of advertisements, thereby making your reading timeless and disturbing.
14.
Booknet.com
Booknet.com is a site for books mainly based on suspense, fantasy, mystery, noir novel, romance novels, science fiction, etc. This website is good for people who are confused about where to start because it provides you the benefit of choosing books based on popularity, bestsellers, news, or updates.
You can even read the summary of every book and see their rankings to get an idea of how the book may be. You have to register on the site to read the books for free.
13.
Europeana
Europeana is a page that gives you access to 58 million-plus books, works of art, videos, artifacts, and sounds of Europe.
These are at hand in more than twenty languages, such as English, Spanish, Italian, French, Portuguese, etc. It is also one of the popular alternatives to PDF Drive for downloading files for free.
12.
Read Print
Read Print is a website where books are available in EPUB and PDF formats. It offers you search filters using categories like historic novels, fiction novels, horror novels, spirituality, art, medicine, self-help, etc.
The site has well-known authors and you can also search for books using the author list. All the books here are nicely formatted.
11.
Smashwords
Smashwords is a platform for independent e-books. As a reader, you can read or download various books in PDF, EPUB, KINDLE, and RTF formats.
Though most of the books are free, you will get even more at different prices. You can search for books using filters like price, top-selling, number of words, bestselling, etc.
If you create an account on this site, you can enjoy additional features like adding books to your library. You can become a publisher on this site and utilize the site's resources for marketing your content.
10.
Open Library
Open Library is a great digital platform that was mainly developed for visually impaired people. The site has more than 20 million recordings of various books.
You can read, add, download, and edit books on the website. To access all these features, you must have an account on the site.
The different formats available here are PDF, PLAIN TEXT, KINDLE, EPUB, and DAISY. You can also publish your books if you wish to.
The site has 30 million records, out of which 13.5 million are accessible on the site, and 2.3 million are available in text.
9.
Open Culture
Open Culture is a platform with thousands of audiobooks, movies, and online courses that anyone can download in MP3 format.
You will also get books of poetry, drama, adventure, fiction, and other literary genres, in various languages like French, German, Spanish, etc.
The different formats available are PDF, KINDLE, HTML, PLAIN TEXT, etc.  Moreover, you can find the books based on the category or date created.
All these can be done free of cost, without even signing up.
8.
OnlineProgrammingBooks.com
OnlineProgrammingBooks.com is one of the top alternatives to PDF Drive for programmers.
You will get all resources regarding programming, computer science, mobile application development, graphic and web designs, networking, databases, artificial intelligence, computer hardware, etc.
Some of the PDFs here are free, but some are offered at a discounted price.
7.
ManyBooks
ManyBooks is a free platform where publishers represent their writings to a community of nearly 150000 readers.
The website has free and discounted bestselling books of romance, action, fantasy, adventure, and many more.
You can read an extract from the book for free to decide if you want to read or download it further.
You have to create a free account for downloading, and you can access more books and write your reviews on the paid version.
6.
Internet Archive
Internet Archive is an online library where you can get more than twenty-five million free downloadable books and texts.
You will get books on various topics and languages. Few formats available here are, PDF, KINDLE, EPUB, ABBY GZ, ITEM TILE, etc.
5.

Bookyards
One of the other alternatives to PDF Drive is Bookyard. This website contains more than 20000 books that you can search category-wise.
This includes business, finance, art, culture, economics, etc. You can even publish your write-ups apart from downloading books from the website.
4.
Free-eBooks.net
Free-eBooks.net is one of the significant resources that you can use to get free eBooks. It is one of the best alternatives to PDF Drive.
Here, you can get the books in various formats such as PDF, HTML, TXT, and EPUB. Each book has its description and reviews written when you search for them. You can be a reader or an author on this site.
T
o
p
3
A
l
t
e
r
n
a
t
i
v
e
s
t
o
P
D
F
D
r
i
v
e
a
r
e
B
e
l
o
w
3.
Google
Google is the biggest search engine on the internet. You can search and download thousands of books for free.
If you want the format to be in PDF, add the word "PDF" after writing the book name while you search for it. Google is an excellent alternative to PDF Drive.
2. BookBoon
BookBoon is an online book library where you will get 10000+ books to download. Many free textbooks cover topics like Business, Engineering, Economics, IT, etc.
This resource is very fast, accessible, and easy to use. You can even become an author on this site and create good-quality books for free.
1.
Scribd
Scribd is a huge online library for millions of free and paid books, magazines, CDs, podcasts, files, sheet music, papers, etc. You will get everything in PDF format. It is the most convenient way of reading online. You can explore the bestsellers that can add to your personal growth. There is an option for free sign-up and a free trial before you pay for any subscriptions. Scribd also has an application that you can download for free on your device for a better reading experience.
Conclusion for Top Alternatives to PDF Drive

Now, you know the names of so many sites for PDF files and e-books. These sites are free, user-friendly, and quickly accessible. So, to enjoy your reading time, you no more have to depend on only PDF Drive. Choose among these various alternatives to PDF Drive and read or download whatever you want to with just a few clicks. Happy reading!
Frequently Asked Questions
What is the use of PDF Drive?
Ans: PDF Drive is an online e-book search engine. It is used to search, view, read, and download PDF files or e-books.
Ans: Yes, PDF Drive is one of the safest sites for downloading files and e-books.
Are PDF Drive books legal?
Ans: The website does not hold any responsibility for downloading any content from them. So, they do not have any legal right on the books and only serve as a platform to get access to PDFs.
Ans: Although you can create a free account in PDF Drive and read thousands of books for free, still there are some books and extra features which are only available in the paid version.
Our Summary
The Best Alternatives to PDF Drive
Scribd
BookBoon
Google
Free-eBooks.net
Bookyard
Internet Archive
ManyBooks
OnlineProgrammingBooks.com
Open Culture
Open Library
Smashwords
Read Print
Europeana
Booknet.com
Librivox
Project Gutenberg
Authorama
Z-Library
Library Genesis
eBook Lobby
BookGuru
Kupdf
Page by Page Books
Read-AnyBook
OceanOfPDF
Pdfcoffee.com
Oiipdf.com
Freda