The Top 9 Best Steam Alternatives in 2022
Who does not know about Steam? It is one of the most popular names for PC gaming freaks. It has been developed by the Valve Corporation and is a very wide digital distribution platform providing digital rights management (DRM), video streaming, multiplayer gaming, and more.
Using this platform, you can install and auto-update the games and can get a few community features as well. It is not only an easy platform but also it has offered so many deals to the 96 million gamers.
But we all know that nothing is perfect and neither does Steam. That is why we are here presenting numerous such software that acts as a Steam alternative.
Steam is not the only option available in the market when it is the question of buying games. As gamers, there is no harm if we try out something else.
The List of Top Alternatives of Steam
There are a number of Steam alternatives for buying games. But in this article, we have some of the best alternatives for Steam. Some of the best-handpicked ones are very popular among users.
9.

GOG.com
GOG which was famous as Good Old Games and is a part of the CD Projekt. CD Projekt is known to be the company behind The Witcher and Cyberpunk 2077.
GOG.com has numerous customer forward policies just like CD Projekt. This site is very valuable for the ones who are more into old-school games. Most of these old games used to require DOSBox so that they could operate properly.
The games which you download from this platform are DRM-free, which means, that if you have downloaded the game 50 years back and want to use them now, they are still going to work. This is amazing, right?
This platform is quite worth checking out as a Steam alternative if you are searching for games that are a bit old-school and classic. This site is available for Windows, IOS, and Linux users.
Features
This Steam alternative gives you the modernized and updated version of all the old-school games.
The management system of this platform – GOG Galaxy 2.0 allows all the users and gamers so they can link the accounts that they have on the various platforms to a single source.
GOG is not only the platform for video games but also is a widely used platform for films as well.
This site's subscription service is customer friendly and they also give you a money-back guarantee.
This platform provides quite frequent offers and discounts which may reach up to 90%.
8.

Origin
This platform has been a competitor in the gaming distribution industry for a very long time. They have attempted to sell a few excellent games namely Battlefield 4, Star Wars Battlefront, and Sims 4.
Often the games that they offer are old games, that is, all the games available there are not made after 2013. You need to keep an eye on the offers available because you will never know when this Steam alternative platform will give away a game for free.
Additionally, if you want to continue your game on a different machine, in that case, you can always save your gaming progress on the cloud.
You can easily rely on this platform because they are a reliable gaming distribution outlet.
Features
This Steam alternative platform offers wonderful offers when it comes to seasonal sales and gives tough competition to the sales on Steam for some selective games.
The games from this platform are available on the website of Origin and also through their desktop client.
For easier access, Origin will help you to organize your games in a single place.
This alternative platform offers a subscription package that allows you to access all the recently launched games.
They are also known for their full refund policy if do not like the game and are unsatisfied with the purchase.
7.

Humble Store
This gaming store platform is best known for the Humble Bundles – the periodic collection of games that have a theme that is set and they are always available at good discount rates.
When this Steam alternative platform started, it began its journey with the "Pay what you want" scheme. All the income that came from these purchases was used for charity purposes.
During this scheme, a huge number of games were available for pennies. You can get the traditional store in the Humble Store which allows you to buy any sort of currently available bundles along with individual games.
Features
This site has many frequent sales coming in and going out.
This site also comes with a book collection where you can enjoy manga and sagas full of characters along with the games.
While you buy a game from this Steam alternative, you will be getting a key for Steam. Besides this feature, you also have an option for downloading the games directly from the platform.
You will also have the access to the Humble Trove which is a collection of more than 90 DRM-free titles available only for subscribers. You can download them and enjoy them for your life even if you do not renew the subscription.
6.

Epic Games Store
Although Epic Games faces a lot of problems as a company for its anti-consumer exclusivity deals available on its platform. But, not a single person can deny the numerous options available on the platform and the number of free titles that this company gives out.
This is the latest Steam alternative in the industry. But Epic Games has a number of blows after they created the Unreal Engine and some games like Fortnite.
It would be a stupid idea if you want to browse the store as users have complained that they face some massive privacy problems. This gaming site has an 88% revenue scheme for its developers to keep them motivated.
Features
Epic Games has secured numerous exclusive titles and they release high-quality free games regularly which makes it worth checking out if you enjoy snagging free games.
Epic Games offer such an exclusive set of unreleased games for PC.
Since this Steam alternative platform is pretty young, the interface of this platform is not as good as compared to its competitors.
5.

Game Jolt
This is a Steam alternative platform that provides a large library for many indie games which are mostly free both in the website mod and the desktop client versions.
There is a game known as the Pokemon series which is exceptional in quality. Although this is not an official version of the Pokemon games, the newly launched games such as Pokemon First Person and Pokemon Destiny are the best ones.
Features
This Steam alternative platform has to maintain a forum which is known as the Fireside. This forum helps keep the user up-to-date with the things going on in Game Jolt and also provides a fair share of the gaming news.
This website is very easy to use and the games are also very simple to configure.
This Steam alternative platform uses its own website for content creation which is named Game Jolt Jams. This website allows its users to maintain a manageable interface so that they can keep track of the progress and downloads of their games posted by Game Jolt.
4.

Itch.io
This platform is also a once-in-a-lifetime DRM-free gaming client. This platform provides an excellent library of games. This Steam alternative is the favorite choice for many Indian Gamers.
Itch.io has made one of the biggest Indie Game libraries available in the market today. The desktop application of this platform is a very simple extension of its website.
Although that location has no such extra function functionality but is mostly used because it provides all you need so that you can store and access the games that you bought through its website.
You can find excellent software and digital content regarding various genres.
Features
This platform also has a forum that is kept continuously updated.
This Steam alternative has a very impressive software library just like their excellent gaming library.
io has developed a strategy where you can pay what you want and also developers can upload their games for free.
Most of the games available on this platform can be enjoyed at a very low price such as $10.
3.

Uplay
Every company likes to have its own digital storefront. Similarly, Ubisoft is no exception. We get a sort of social hub and the storefront in Uplay which rewards the players whenever they make a purchase or complete any classic challenges by providing them club units. These units can be exchanged for in-game items, such as character outfits and discount codes for future purchases. If you enjoy playing Ubisoft games, you must have an Uplay account.
Therefore, this service provider has multiple platforms such as PC, X Box, Play Station 4, X Box 360, Android, iPhone, etc.
Features
Most of the games that Ubisoft has launched require an Uplay account to play.
This Steam alternative is worth having a look at as it is often providing offers and discounts which you will not be getting on any other storefront.
Although Steam and Uplay work pretty nicely with each other, you should play any Ubisoft games through Uplay as it provides numerous anti-cheat clients.
2.

GreenMan Gaming
After stepping into the gaming market recently, GreenMan gaming has gained a lot of attention from every game lover because they have created something very unique and become the second biggest digital game retailer.
They have added a console streaming platform. Just because this platform is still under construction, you will have to wait before you can use this feature.  The infrastructure of this platform is not as good as Origin and Good old games.
GreenMan Gaming provides you access to some of the biggest enterprises so that you can have a look into the product before you buy them. If you were missing an Indie Game, then you need not worry as this platform has numerous Indie Games in its catalog.
Features
You can find a long list of various PC and Mac games on the steam alternative
This Steam alternative platform also provides you with some excellent deals on some select games which can go up to discounts of more than 90%.
This site also allows the players to review, discuss in community, and game data tracking.
They have added a unique idea of a console streaming platform.
1.

Blizzard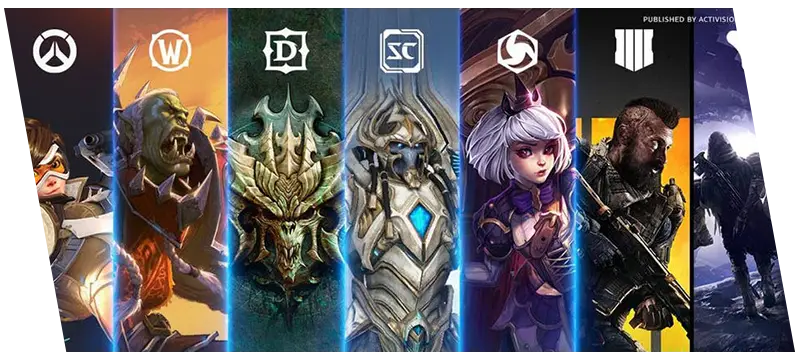 This Steam alternative has been launched by a huge Video Game Company known as Battle.net which acts as a mediator between the gamers and the games of Activision and Blizzard.
After the merging of both the companies, games of both the studios are available. This platform provides some breathtaking PC games such as Overwatch, Starcraft, Call of Duty, and many more.
The creators of this platform wish to provide some new touches to Blizzard in order to make it a full-fledged digital distribution platform and to make this happen, they have included social interaction.
Features
The new feature of social interaction allows you to chat and interact with your friends while you are playing the games.
This Steam alternative is an all-in-one feature pack that provides everything that a gamer needs – music, themes, trailers, previews, and many more.
Conclusion of The Best Steam Alternatives
Thus as we can see, Steam is not the only platform that provides you with games and much other software. Several Steam alternatives have grown a lot in the past few years. They are giving tough competition to Steam.
Topic Summary
Here Are A Quick List Of The 9 Best Steam Alternatives of 2022