Leadership & Management Peter Drucker Quotes To Get You Inspired
In this post, we will publish 28 Peter Drucker Quotes and short biography of Peter Drucker.
Peter Ferdinand Drucker was born on November 19, 1909, in Vienna located in Austria-Hungary. His parents Caroline Bondi and Adolf Drucker were Lutheran Protestants. His parents were highly educated and from his early childhood, he was exposed to the ideas of great teachers, doctors, and philosophers who frequently visited his household for discussion on various topics.
Post-World War I Drucker found many new opportunities waiting for him post his graduation.  He worked at various posts in Germany and even joined as the editor of Frankfurt Daily. In, 1933 he moved to England and worked at an insurance company and a private bank.
During his stay in London, he met one of his old acquaintances Doris Schmitz, whom he fell in love with and got married in 1934. After marriage, the couple permanently shifted to the U.S where he took the job as a professor and a freelance writer.
During his early teaching career, he taught at Bennington College subjects like politics and philosophy. Later on, he shifted to New York University where he taught Management for the next 22 years.
Drucker is credited for creating the country's first MBA program for working professionals in the Claremont Graduate School and taught in the school from 1971 until his death.
He established Drucker Archives in Claremont university in 1999 and post his death the archives were changed to Drucker University in 2006. He was a very hard-working man and took the last class at the age of 92 in 2002 and dedicated all his life to making management courses easy.
Drucker emphasized the decentralization of any organization so that they can survive in the Modern World. He found that in many cases the employees had a better understanding of the product than the bosses but had to corporate to survive in the organization which ultimately led to their doom.
He gains popularity when post-war Japan sought his help to become the new business leader in the world. Many big companies like IBM, General Motors, and Sears took his advice and guidance to improve their business model.
Later on, he started giving business development advice to non-profit organizations like the American Red Cross and Salvation Army for better management.
He wrote many books over the and 39 of his books have been translated into thirty-six languages which are part of the curriculum of many business schools. He is a very popular figure in Japan and most of the companies follow the business model designed by him and the improvement advice given by him.
Outsourcing which has become a very popular concept in the Modern Business Era was given by Drucker in the form of 'Front End Office' and 'Back End Office'.
He took his last breath in 2005 at the age of 95 due to natural causes. He was survived by his wife and four children.
Let's read some of the quotes of this visionary man.
Top 28 Famous Peter Drucker Quotes
"Strategy is a commodity, execution is an art."
― Peter Drucker Quotes
"Long range planning does not deal with the future decisions, but with the future of present decisions."
― Peter Drucker
"The key to greatness is to look for people's potential and spend time developing it."
― Peter Drucker Quotes
"Plans are only good intentions unless they immediately degenerate into hard work."
― Peter Drucker
"If you have more than five goals, you have none."
― Top Peter Drucker Quotes
"What gets measured gets improved."
― Peter Drucker Quotes
"There is nothing quite so useless as doing with great efficiency something that should not be done at all."
― Peter Drucker
"There is nothing worse than doing the wrong thing well."
― Peter Drucker Quotes
"Rank does not confer privilege or give power. It imposes responsibility."
― Peter Drucker
"The bеѕt wау tо predict уоur future іѕ tо create it."
― Top Peter Drucker Quotes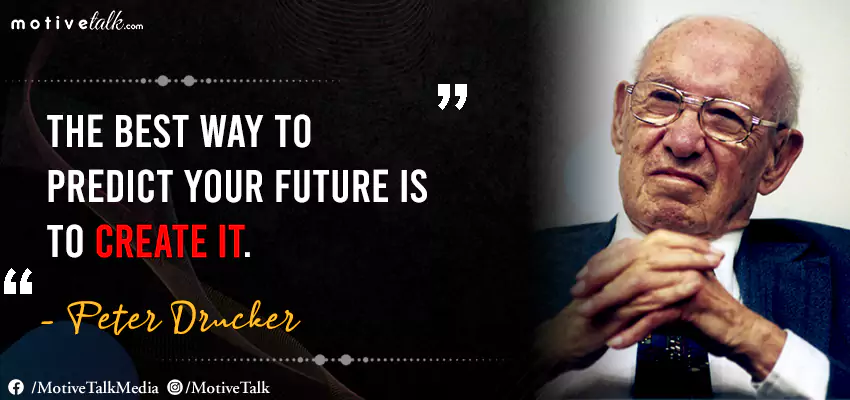 "Leadership is an achievement of trust."
― Peter Drucker Quotes
"Don't solve problems. Pursue opportunities."
― Peter Drucker
"The only real difference between one organization and another is the performance of its people."
― Peter Drucker Quotes
"Results are gained by exploiting opportunities, not by solving problems."
― Peter Drucker
"The most important thing in communication is hearing what isn't said."
― Top Peter Drucker Quotes
"Effective leadership is not about making speeches or being liked. Leadership is defined by results not attributes."
― Peter Drucker Quotes
"The relevant question is not simply what shall we do tomorrow, but rather what shall we do today in order to get ready for tomorrow."
― Peter Drucker
"If you can't measure it, you can't change it."
― Peter Drucker Quotes
"Follow effective action with quiet reflection. From the quiet reflection will come even more effective action."
― Peter Drucker
"If you want something new, you have to stop doing something old."
― Top Peter Drucker Quotes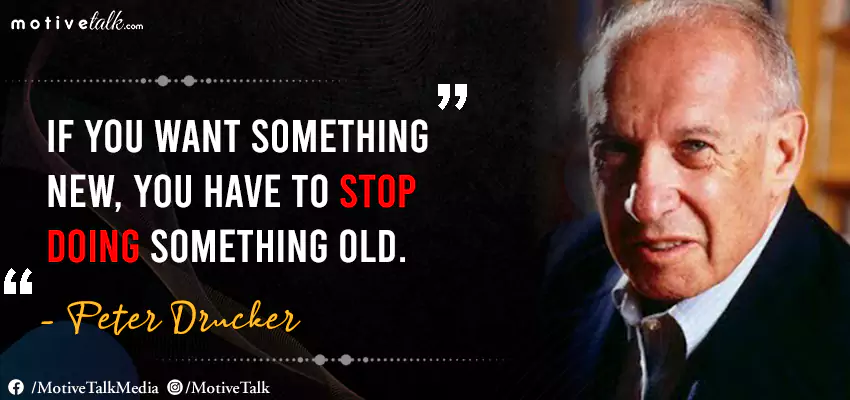 "The purpose of information is not knowledge. It is being able to take the right action."
― Peter Drucker Quotes
"The aim of marketing is to know and understand the customer so well the product or service fits him and sells itself."
― Peter Drucker
Last 6 Peter Drucker Quotes are Below
"So much of what we call management consists of making it difficult for people to work."
― Peter Drucker Quotes
"Doing the right thing is more important than doing the thing right."
― Top Peter Drucker Quotes
"Meetings are by definition a concession to a deficient organization. For one either meets or one works. One cannot do both at the same time."
― Peter Drucker Quotes
"Management is doing things right; leadership is doing the right things."
― Peter Drucker
"The greatest danger in times of turbulence is not the turbulence; it is to act with yesterday's logic."
― Peter Drucker Quotes
"Most leaders don't need to learn what to do. They need to learn what to stop."
― Top Peter Drucker Quotes
Last Few Words About Peter Drucker
We hope these quotes have made your mind to improvise your business and take it in a positive direction.