Inspiring David Goggins Quotes – Success in Your Life
In this blog post, we'll share a short biography of an American ultramarathon runner, ultra-distance cyclist, triathlete, public speaker, and author David Goggins and also share 27 motivational David Goggins Quotes.
David Goggins is a world-renowned motivational speaker who does not need any introduction. If you are looking for inspiration to self-motivate yourself then you should read his autobiography-"Can't Hurt Me", which will definitely motivate you to work hard to achieve all your goals in life.
On February 17, 1975, David Goggins was born to Trunnis and Jackie Goggins in New York. He and his younger brother were exposed to racism from an early age.
If you are facing some bad times in your life, job pressure, money problems, or difficulty in pursuing your dreams, then you can read the autobiography of David Goggins. He has literally lived a hell life and came back every time successfully to face another hurdle.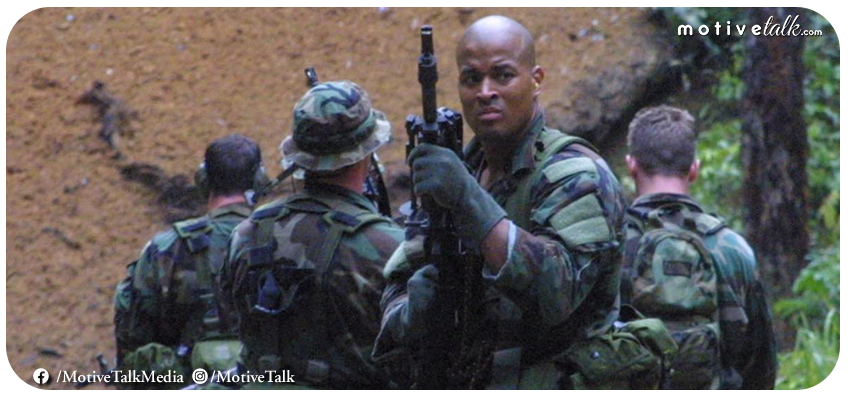 You can name the difficulties racism, abuse, poverty, and physical problems everything he has faced in this lifetime.
He has worked in all three army fields, he was a Navy Seal in the Navy, Army Ranger in Army, and Air Force Tactical Air Controller in the Airforce.
When his many friends died during a helicopter crash in Afghanistan in 2005, he started running to raise money as a charity and help children of fallen special operations soldiers.
The first race he ran without any preparation was life-threatening for him as it resulted in kidney failure.
But he is born a true spiritual warrior and one failure made him even strong to run for charities.
To motivate himself and others and he has formulated a 40% rule. When you feel like quitting and lost all hope, your mind has spent only 40% of your energy. You have to awaken up your inner beast and achieve your goals in life.
The man has many records to his name, 4030 pushups in 17 hours which is a Guinness Book Record, apart from this he has completed over 60 ultra-Marathons, triathlons, and ultra- triathlons. He has set many new records on his way and is considered to be a beast of physical and mental strength.
He suffers from many problems like Asthma, obesity, and Congenital Heart defect.
His heart problem was discovered in 2010 during a routine checkup which made his arteries only 75% functional, he got successfully operated on and is fit as a fiddle now.
All these physical problems did not hamper his path from setting world records. Let's read some of his quotes to inspire your mind and soul.
Top David Goggins Quotes Are Below
"Be more than motivated, be more than driven, become literally obsessed to the point where people think you're fucking nuts."
― David Goggins Quotes
"If you want to get better, do the things that no one else wants to do."
― David Goggins
"The most important conversations you'll ever have are the ones you'll have with yourself."
― David Goggins Quotes
"Denial is the ultimate comfort zone."
― Top David Goggins Quotes
"You are in danger of living a life so comfortable and soft, that you will die without ever realizing your true potential."
― David Goggins Quotes
"The Buddha famously said that life is suffering. I'm not a Buddhist, but I know what he meant and so do you. To exist in this world, we must contend with humiliation, broken dreams, sadness, and loss."
― David Goggins
"In the military we always say we don't rise to the level of our expectations, we fall to the level of our training."
― David Goggins Quotes
"Life is the most brutal endurance sport of all time!"
― Top David Goggins Quotes
"I thought I'd solved a problem when really I was creating new ones by taking the path of least resistance."
― David Goggins Quotes
"Every morning in our lives, we have a choice to make. You have the choice to stay in bed and say 'forget it, I'm not going to work out today.' or 'forget it, I'm not going to work hard today.' that's your choice that you make every single day of your life. Make the right decision."
― David Goggins
Top 10 David Goggins Quotes Are Above
"Believe it or not, most people prefer delusion. They blame others or bad luck or chaotic circumstance."
― David Goggins Quotes
"You may lose the battle of the morning but don't lose the war of the day."
― Top David Goggins Quotes
"It's a lot more than mind over matter. It takes relentless self-discipline to schedule suffering into your day, every day."
― David Goggins Quotes
"The human body can withstand and accomplish a hell of a lot more than most of us think possible, and that it all begins and ends in the mind."
― David Goggins
"Know why you're in the fight to stay in the fight! And never forget that all emotional and physical anguish is finite!"
― David Goggins Quotes
"Mental toughness is a lifestyle."
― Top David Goggins Quotes
"The more things you can do to get outside of that zone that makes you feel good, the stronger your mind is going to get… It's not fun, but now my mind is used to it."
― David Goggins Quotes
"Greatness pulls mediocrity into the mud. Get out there and get after it."
― David Goggins
"I understand the temptation to sell short, but I also know that impulse is driven by your mind's desire for comfort, and it's not telling you the truth. It's your identity trying to find sanctuary, not helping you grow. It's looking for the status quo, not reaching for greatness."
― David Goggins Quotes
"I don't stop when I'm tired. I stop when I'm done."
― Top David Goggins Quotes
"It's easier to accept the fact that you're just not good enough. We all have a lot more than we think we have."
― David Goggins Quotes
"If you can get through doing things that you hate to do, on the other side is greatness."
― David Goggins
Rest 5 David Goggins Quotes are Below
"Pain unlocks a secret doorway in the mind, one that leads to both peak performance, and beautiful silence."
― David Goggins Quotes
"We're either getting better or we're getting worse."
― Top David Goggins Quotes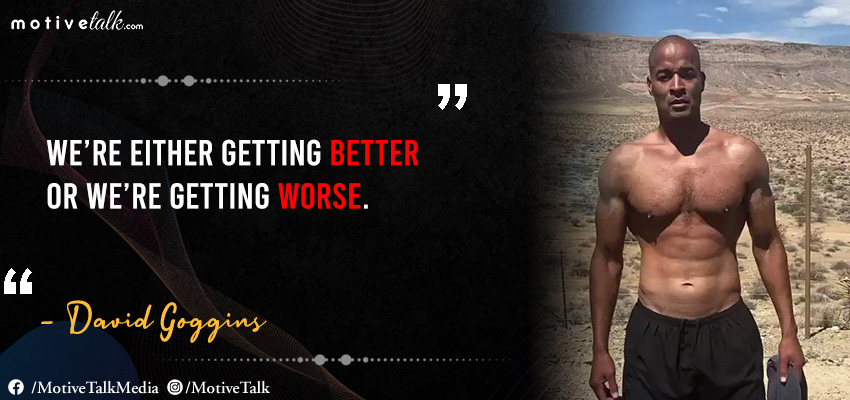 "Always be willing to embrace ignorance, because that is the only way to expand your body of knowledge and body of work. It's the only way to expand your mind."
― David Goggins Quotes
"Only you can master your mind, which is what it takes to live a bold life filled with accomplishments most people consider beyond their capability."
― David Goggins
"No one is going to come to help you. No one's coming to save you."
― Top David Goggins Quotes

Few last words about David Goggins
The man has faced many problems in his life, but his strong determination and willpower is a source of inspiration and motivation to millions of people around the globe. A true warrior is a person who challenges his limits daily, he stands in front of his obstacles daily and challenges them daily to overcome them.
He is a motivational speaker who motivates many sports teams and raises funds for many charities. His words not only inspire players but many people around the world and he has got 2.2 million followers on Instagram.
David Goggins's Social Media Handles Are
I hope you like David Goggins Quotes. 
You Can Also Check If You Like: