Top 13 Best Anime for Beginners – Must Watch Till Die
If you are one of the newbies in the anime world and do not know where to start, HOLD ON!! We bring you the Best Anime for Beginners for you. Anime has been gaining a lot of popularity and fame in recent times.
No doubt that it is worth all the distinction it has achieved. Many of us never knew that it existed ever, but once we hear about it, we are fascinated to explore why it is so much in demand. We saw you looking for the best anime for beginners and we have curated the best anime list for you.
13 Best Japanese Anime for Beginners in 2022
If you are a lover of Japanese anime like me, then these are the Best Anime to Watch as a beginner. So let's start with the topic. The list of the top 13 Best Anime for Beginners is below.
1. Naruto
Genre: Action, Adventure, Fantasy, Comedy
Ratings: IMDb (8.4/10), MyAnimeList (8/10)
Written by Masashi Kishimoto, "Naruto" is a Japanese manga series about a young ninja enthusiast. The story has won the heart of its audience with its overwhelming storyline. It has gained a lot of favor from the audience. The series has a total of four seasons.
One of the messages Naruto reciprocates is how to put in consistent efforts and NEVER GIVING UP. The Show also highlights the emphasis on friendship in our mundane lives. The warmth of friendship will overwhelm you every time Naruto tries to save and support his friend, Sasuke.
The movie is intensively an action movie. The music and animation are no less than perfection. This series can be an excellent start to your anime journey and makes a place in the list of best anime for beginners.
2. Death Note
Genre: Mystery, Psychological Thriller, Crime, Drama, Fantasy
Ratings: IMDb (9/10), MyAnimeList (8.6/10)
Light Yagami, the protagonist, is a very usual and ordinary young boy, who loathes the evil that exists in this ugly world. The story revolves around Light Yagami, who discovers a notebook. Once he uncovers the power held by that book, he chooses to use it to wash away the rotten side of the world.
It does not take very long when the need of building a world based on the roots of justice becomes his only fascination.
The theme of the series touches on the convictions of justice, perfection, power, and evil. The story is a battle between the ideal world Light wants to build on the roots of justice and the team of detectives who try their best to track down the unknown killer.
It is one of a manga series of 37 episodes. Each episode is unpredictable, and with every episode, you will get a new turning point in the story.
3. A Silent Voice
Genre: Drama, Romance, Anime
Ratings: IMDb (8.1/10), MyAnimeList (9/10)
A Silent Voice is a heart-wrenching movie that flaunts a budding romance between a boy and a girl. It is loved by people because of its astounding plot and flawless visuals. In their class at an elementary school Shouya Ishida, a popular and spoilt boy, met a deaf girl, Shouko Nishimiya.
Once Shouko migrates from the school, he later discovers a notebook left behind by the girl. The story focuses on the reunion of these two young people later in their lives and the turns their lives take. The movie beautifully speaks about how much one person can affect the life of the other, unknowingly.
The story redundantly talks about regret and how one has a choice of changing our darker sides into kinder ones. Social anxiety has been focused on as well in the series. Watching this anime will surely be the best choice if you are unsure of what to see while starting your anime journey.
4. Demon Slayer: Kimetsu no Yaiba
Genre: Adventure fiction, Dark Fantasy, Martial Arts
Ratings: IMDb (8.7/10), MyAnimeList (8.6/10)
A supernatural series about the lurking dark power of demons is one of the most popular in the world of anime. The life of a young boy, Tanjiro Kamado, is devastated when his family is attacked by demons and converts her sister Nezuko into a demon.
The engrossing story is about how he seeks to save his sister and tries to eradicate the dark powers embraced by demons. This movie teaches about how our fears and weaknesses are only rooted in our minds, and one can easily get rid of them.
The show has violence, scary graphics, and nudity. The movie circles around how empathy is underrated and it can be a great power. The show is a roller-coaster that will drown your heart in intense emotions.
5. Your Name
Genre: Romance, Anime, Fantasy
Ratings: IMDb (8.4/10), MyAnimeList (8.9/10)
A sorrowful and mystical romance story between two people is an enchanting anime perfect for jumping into the anime world. It is an example of visual perfection. The romance begins when a young boy and girl can exchange their bodies unknowingly.
The movie encounters new curves in the story and new truths are discovered. The ethereal music the movie has, adds a magical touch to the storyline. It is full of surprises and emotional complexities, but also melancholy.
It signifies how true love is beyond just knowing the names of another person, but rather about how you should know how loving should know about a person inside-out. It beautifully pens down the yearnings and losses in our lives and that is why it is listed in our best anime for beginners list.
The unpredictable story of the movie will help you stick to the movie till the end.
6. Love is War
Genre: Comedy, drama, romance
Ratings: IMDb (8./10), MyAnimeList (8.4/10)
A rom-com of one season is a love story of college students. The story is about two very intelligent students who deny being in love and are in a tough competition. They consider love to be a weakness and continuously play mind games with each other.
The movie also has bits of comedy in it. The music in the movie is very soothing. They pretend to carry hard shells while in reality, they are already falling in love.
The psychological manipulation by the characters makes it a fun movie. Student council president Miyuki Shirogane and vice president Kaguya Shinomiya appear to be a perfect match, but the denial is what makes it a good watch.
7. Attack on Titan: Shingeki no Kyojin
Genre: Drama, Dark fantasy, Action fiction, post-apocalyptic fiction, Apocalyptic
Ratings: IMDb (9.1/10), MyAnimeList (8.5/10)
Attack on Titan is one of the top-rated anime that beginners must go for. The series is a manga-based show which has four seasons. A barrier is made to protect the human life from the titans (man-eating Titans) which protect the human race for a long period.
There is a total of nine titan powers according to the story. The barrier gets smashed down and the safety of men is at the stake of destruction. You might think the story would be about how the human race is saved, but the story gets more interesting with the proceeding of the story.
The turns of the story are excellent and at no cost would you dislike the series. This series has four seasons. It can be considered one of the best shows made ever and is very popular amongst the audience.
It has everything an anime should have: a great storyline, perfect graphics, and of course action. It surely is a masterpiece of our times that you can not miss watching.
8. One piece
Genre: Action, Adventure, Fantasy, Drama
Ratings: IMDb (8.8/10), MyAnimeList (8.6/10)
One piece is one entertaining show out there. It is a long show of 20 seasons, but at no cost should you think that it will get boring. The show does not fail to hook up the audience.  We all are intrigued by the stories of pirates and the thriller they instill.
The show is one such pirate show where the lead character, Monkey D. Luffy, has a quest of leading all the other pirates. The show has been targeted at young people, but people belonging to any age group have shown a keen interest when it comes to this show.
It can make you laugh and cry all together, along with its simple yet heart-touching moments. It contains bits of action, comedy, and romance that make it one of the best anime for beginners in anime.
9. My Hero Academia
Genre: Super Hero, Action-Adventure, Comedy-Drama, Science Fantasy, School Life
Ratings: IMDb (8.4/10), MyAnimeList (8/10)
In a world where the existence of superpowers is very common, a boy named Izuku Midoriya is born with no superpowers. Heroism had become so common in this animation. But he still aims to become a superhero.
The desire to become a hero and his destiny align and his life changes. He meets one of the greatest heroes, "All Might". "All might" does not fail to recognize the potential of the boy and he chooses to make Izuku his successor.
Later Izuku is enrolled in a prestigious school for superheroes that are trained to emerge as the best heroes. The story further revolves around how he can attain his full potential and highs and lows. The movie contains depictions of violence and blood which is obvious as it is a superhero movie.
If you are looking for a superhero movie, we have got MY HERO ACADEMIA for you on our list. It teaches us how destiny is pre-defined, and we have the power to change our destiny.
Real heroes are not scared of building their destiny by themselves. It is a must-watch that also gives us a chance to assess ourselves.
10. Another
Genre: Anime, Horror, Drama, Thriller
Ratings: IMDb (7.6/10), MyAnimeList (7.5/10)
A perfect example of a horror anime, the story of "Another" is about investigating strange deaths in their school. Kouichi Sakakibara, the male lead character, recently joined the school and Mei Misaki, the female lead character, has a mysterious vibe that attracts Kouichi.
But soon, it is realized that there exists a person who is not alive and can only be seen by Kouichi. With the perfect animations, the anime creates an atmosphere of suspense within the audience.
Not only the presence of Mei is full of suspense, but the arrival of Kouichi is also the point where the deaths of other students occur. Another is one such anime that engages its audience throughout the story. The story enlightens important issues that deeply affect a student.
11. The Future Diary
Genre: Psychological Thriller, Action, and Romance
Ratings: IMDb (7.6/10), MyAnimeList (7.4/10)
A perfect compilation of horror, psychological thriller, action, and romance, this manga series is loved by all anime fans. The film has a concept of "Future Diaries" that have the sight for detecting the future. Nobody can forget to add this anime to the best anime for beginners.
A game is played between twelve individuals who are these diaries by the Lord. The plot of the story consistently grabs the attention of the viewer. The series may be considered to be a little disturbing as sexual violence is being mentioned in the story.
It has been considered a masterpiece by people who have excellent taste in anime. It is an interesting thriller game that speaks of survival.
12. One man Punch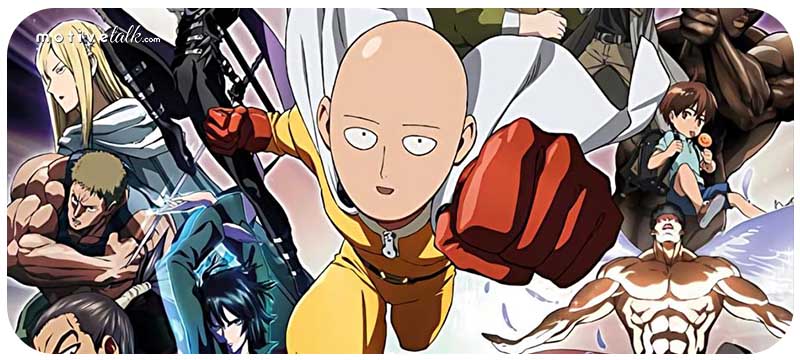 Genre: Action fiction, Comedy, Superhero
Ratings: IMDb (8.7/10), MyAnimeList (8.5/10)
Consisting of two seasons, One Punch Man is a superhero movie that you should add to your anime list. The protagonist can defeat all the enemies with his single punch. But he falls for monotony once the potential fighters whom he can actually fight can't be found.
It is a comedy-based movie you can watch if you want to go for a light movie to go for. The story and animation of the series are loved by the audience. The details are very intricate and it is one hilarious movie in the store.
The series can be good for kids as it preaches some very important life lessons. It gives a right idea about how to succeed one must improve the smallest of the things involved and the boredom involved when life has no more challenges for you.
13. HoriMiya
Genre: Animation, comedy, drama, romance
Ratings: IMDb (8.3/10), MyAnimeList (8.2/10)
The show is heart-whelming series that portrays realistic bondage between two opposites. The two characters Kyouko Hori and Izumi Miyamura are exactly the opposite of each other. It is about a romantic love story that builds up between two people who are worlds apart.
The theme of the series is how to love when true, doesn't require anything that is difficult. It displays the truthful spirit of romance and love.
The series teaches us how we are different inside from what we show to the world and how it requires the right person to open our deepest selves. It is a minimalist movie and so heart-warming that it can make your eyes cry out.
A show with immense depth that touches your heart is what you are looking for; then HORIMIYA is the one for you.
Conclusion of Best Anime for Beginners
In the list of best anime for beginners, we have picked is just a small fraction of the shows. Anime has made its way to the mainstream media. You might have been excited to start watching an anime.
The anime is not just limited to this small list we curated for you rather there are multiple options with which you can start getting into the anime world. We chose the most liked shows by people for you, the best anime for beginners listed by the audience itself. Hope you enjoy seeing the anime we recommended.