Positive Energy Quotes for Healing Your Negative Vibes
In this blog post, we are gonna discuss a short description of Positive Energy and how to deal with negative vibes in daily life as well as share some Positive Energy Quotes from some famous people.
Like a smile, positive energy is also contagious. A person full of positivity will radiate among all the people you know and will always motivate others to tackle all their problems with positivity.
Negative people are all around us and they radiate negative thoughts to everyone. These negative thoughts will hinder the progress of your work and will not let you achieve anything good in life.
You should always try the company of such negative people and toggle them with the company of positive and optimistic people. They see the brighter side of life and see the good in every situation of life.
Life's ups and downs can be completely overcome with positive thoughts and attitudes. You might be struggling in your life at the moment, but trust me these struggles are worth the success which will come later on in life.
Positive energy is like a bright light that rises within a human and helps you to think of the best possible ways to see the best possible solutions to the various situations of life.
Positive energy quotes help to attract all the good and new things in life. Positive energy will bring all the positivity of life to you and help you to think and grow creatively.
Positive energy will give you the strength and support which you seek, to move on in life. Sometimes bad situations break us from the core and we don't want to move on in life.
Loss in business, accidents, and losing a valuable person all fill us with negative energy. This energy is like a poison to our soul and will not let us do anything in life.
Remove this negative energy with positive energy so that you can live life peacefully. Positive energy is like medicine for the soul, which rejuvenates the soul.
A person full of positive energy always radiates in the crowd and is bound to become successful in life.
Positive energy is always flowing around us but we are so stuck in a situation to absorb this energy and come out of this situation.
Read these beautiful positive quotes to attract positivity and enlighten your soul and mind. A positive person will see all the good even in the bad situation of life.
Nobody is perfect in this world, perfection is the biggest illusion that does not let us see even the good things in life. Even the beautiful moon which brightens the sky at night has scars on it. So, why can't you have imperfections??
Don't look at the negative sides of a thing but be optimistic and find every positive solution to every solution.
While playing all the roles of life we have completely forgotten the child which lies within us, let the positive energy help you to relive the child within you and make you the happiest person of the world.
We have made a collection of some famous positive energy quotes that will help you to become cheerful and radiant.
The 35 Best Positive Energy Quotes
"Failure is an option here. If things are not failing, you are not innovating enough."
― Positive Energy Quotes by Elon Musk
"Keep your face to the sunshine and you cannot see a shadow."
― Helen Keller 
"You always pass failure on the way to success."
― Positive Energy Quotes by Mickey Rooney
"It's a funny thing about life, once you begin to take note of the things you are grateful for, you begin to lose sight of the things that you lack."
― Germany Kent 
"The energy of the mind is the essence of life."
― Best Positive Energy Quotes by Aristotle
"Positive Energy knows no boundaries. If everyone were to spread positive energy on the Internet, the world would be a much better place."
― Positive Energy Quotes by Lu Wei
"There's a direct correlation between positive energy and positive results."
― Joe Rogan 
"I've always followed my heart and pursued my dreams, and I imagine that people find that inspiring. I hope that is the effect I have on my fans and people in general. I definitely want to project a positive energy out into the world."
― Positive Energy Quotes by Britney Spears
"You can't make positive choices for the rest of your life without an environment that makes those choices easy, natural, and enjoyable."
― Deepak Chopra
"It always seems impossible until it is done."
― Best Positive Energy Quotes by Nelson Mandela
"Your inner thoughts aren't truly hidden. Their essence reflects in your energy. Energy speaks what you don't."
― Positive Energy Quotes by Drishti Bablani
"I surround myself with good people who make me feel great and give me positive energy."
― Ali Krieger 
"If you don't like me, if you like me; both are equally cool. I send love and positive energy to all those people in their lives. I hope they find where they're meant to be."
― Positive Energy Quotes by Willow Smith
"You can have anything you want if you want it desperately enough. You must want it with an inner exuberance that erupts through the skin and joins the energy that created the world."
― Sheilah Graham Westbrook
"When things go wrong, don't go with them."
― Best Positive Energy Quotes by Elvis Presley
"Energy is contagious, positive and negative alike. I will forever be mindful of what and who I am allowing into my space."
― Positive Energy Quotes by Alex Elle
"Thoughts create a new heaven, a new firmament, a new source of energy, from which new arts flow."
― Paracelsus 
"Once you replace negative thoughts with positive ones, you'll start having positive results."
― Positive Energy Quotes by Willie Nelson
"Prayer does not use up artificial energy, doesn't burn up any fossil fuel, doesn't pollute. Neither does song, neither does love, neither does the dance."
― Margaret Mead
"Attitude is a little thing that makes a big difference."
― Best Positive Energy Quotes by Winston Churchill
"If you're not positive energy, you're negative energy."
― Positive Energy Quotes by Mark Cuban
"Positive energy and attitude are sexy to me."
― Mya 
"When you are enthusiastic about what you do, you feel this positive energy. It's very simple."
― Positive Energy Quotes by Paulo Coelho
"It takes as much energy to wish as it does to plan."
― Eleanor Roosevelt
"Passion is energy. Feel the power that comes from focusing on what excites you."
― Best Positive Energy Quotes by Oprah Winfrey
"Every time you don't follow your inner guidance, you feel a loss of energy, loss of power, a sense of spiritual deadness."
― Positive Energy Quotes by Shakti Gawain
"There's a direct correlation between positive energy and positive results."
― Joe Rogan 
"The ground we walk on, the plants and creatures, the clouds above constantly dissolving into new formations — each gift of nature possessing its own radiant energy, bound together by cosmic harmony."
― Positive Energy Quotes by Ruth Bernhard
"Joy is prayer; joy is strength: joy is love; joy is a net of love by which you can catch souls."
― Mother Teresa
"In order to carry a positive action, we must develop here a positive vision."
― Best Positive Energy Quotes by The 14th Dalai Lama
"Focus on an ocean of positives, not a puddle of negatives."
― Positive Energy Quotes by Kevin Ansbro
"Reinforce your positive thoughts and redirect to the substantial energy of your frustration."
― Napz Cherub Pellazo. 
"If you feel happy, smile with all your heart. If you're down, smile with all your might."
― Positive Energy Quotes by Paul Ian Guillermo
"The positive energy you bring here makes the world a better place."
― Vin Diesel
"When I despair, I remember that all through history the way of truth and love have always won."
― Best Positive Energy Quotes by Mahatma Gandhi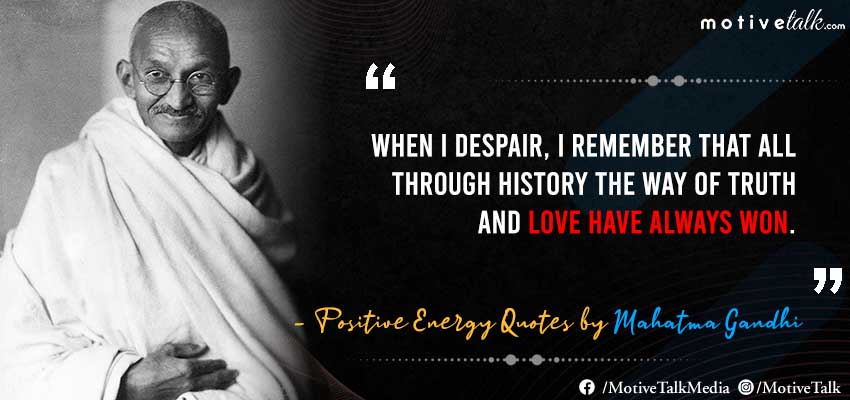 Last words about Positive Energy Quotes
Positivity is the best medicine for mind and soul and we hope that these wonderful quotes have helped you see the world from a different perspective.
Share these positive energy quotes with friends and family so that they are also full of energy and vibes to make everyone happy around them.