Best Coffee Brands in India (2023) – Enjoy the Taste of Flavor
There has been a surge of retail coffee stores in India. Each store carries a unique brand and mission statement to provide the best coffee Brands in India 2023." Coffee is one of the most popular beverages of choice worldwide. Coffee contains caffeine and it is a brew prepared from the roasted seeds of several species of an evergreen shrubs of the genus Coffee.
Do you remember your first cup of coffee, I am sure almost everyone does. Mine is when I was in school, my father used to drink a cup of coffee after he had come from the office and had a shower. I tasted from my father's cup, without telling him.
That moment, I knew, I was introduced to something special. First experience after all. I remember the Nescafe advertisement. "Love is in the air and it smells like coffee."
Best Coffee Brands in India 2022
The word coffee came from the Ethiopia's Kaffa region, prompting wide acceptance that the term coffee derived from there. But there is a reason behind me finding out the "Best Coffee in India"
Medical science research paperwork suggests, that caffeine, found within the coffee, if dosed at 3–5 mg/kg may improve high-intensity sprint performance when ingested 30 minutes prior to exercise. Coffee seems to be a good source of caffeine to improve sprint performance, especially when multiple strenuous bouts are completed in the same week.
Not to forget about its rich aromatic flavor. Even avid tea drinkers, who cannot live without the smell of the boiling tea leaves would also acknowledge the fact, that coffee smells the best.
Let's plunge into the world of coffee and find out the "11 Best Coffee brands in India" in 2022.
 1. NESCAFE
The word NESCAFÉ (Derived from the words Nestlé and Café is a swiss coffee brand). During the 1930s, Brazil was running in surplus of coffee. It was during those times that the Brazilian government approached Nestlé to make coffee cubes. Thus Nescafé was invented. Nescafe was first launched in Switzerland on April 1, 1938..
Nescafé setup its first plant in Moga Punjab in 1961. "The coffee with life in it. "Made in just 5 seconds" was Nescafé's first promotional teaser in 1963. Nescafé recorded 50 years of completion in India in 2012.
Even today the majority people of our country think of Nescafe only as the only coffee brand. Just like children say Maggi (another famous nestle product) instead of instant noodles, Nescafe for instant coffee.
Courtesy to the excellent marketing strategy of the Nestle marketing team, that the company has captured the Indian market and enjoyed the numero uno status for so long. Nescafe has been the pioneer in serving the instant coffee at an affordable price. The brand is committed in offering the best instant coffee in India.
'It all starts with a Nescafe' is the new brand theme of Nescafé now.
2. STARBUCKS
Starbuck was founded in Seattle, Washington, on March 31, 1971. English teacher Jerry Baldwin, history teacher Zev Siegl, and writer Gordon Bowker were inspired to sell high-quality coffee beans, which was the prime reason for the opening of this legendary company. It is however believed that, Alfred Peet, a coffee-roasting entrepreneur, was a major inspiration to the founders of Starbucks.
In due course of time, Peet became their initial days supplier of green coffee beans to Starbucks. The partners then procured a refurbished roaster from Holland, and Baldwin and Bowker experimented with Alfred Peet's roasting methods to originate their own blends and flavours.
Soon with their passion and hardwork they have turned this into the world's largest coffee retail chain store. It is quite needless to say that, Starbucks tops the list, if you are really serious about Best Coffee in India.
3. CAFE COFFEE DAY
Café Coffee Day, popularly known as CCD in India was founded by V.G. Siddhart, who was born in the Malenadu region of Chikkamagalur district in Karnataka State.
The company is based in Chikkamagalur and has an approx of 20000 acres of coffee estates. Slowly, Café Coffee Day grew its stature and now the company is the largest producer of prime Arabica coffee beans in Asia.
Even today after the founder's suicide death, Café Coffee Day coffee beans are considered one of the Best Coffee in India. The company exports coffee to the U.S.A, Europe and Japan. The company opened its first outlet at Brigade Road, Bangalore on July 11, 1996, and now it is spread across almost all the states of India.
The company has started selling its own merchandise in the form of coffee mugs and cups. The CCD management has strategically decided to produce everything directly or indirectly related to coffee and distribute it across all their retail stores in India, to cut down on the economic costs.
4. TATA COFFEE
Tata Coffee is owned by Tata Global Beverages Group. Inspired by their vision of producing the finest coffee beans, the company provides their coffee straight from their plantations in Theni (Tamil Nadu) and Toopran (Telangana).
Nowadays they are growing Robusta and Arabica coffee from the Balmany estate, which is situated in Coorg Karnataka. Tata coffee has 19 coffee and pepper estates, across 8000 hectares of land. The company has its plants in Theni (Tamil Nadu), Toopran (Telangana) and Ho Chi Minh Vietnam.
The company is the sole producer of Monsooned Malabar coffee which is highly acclaimed by the connoisseurs worldwide and regarded as one of the Best Coffee in India.
The organization additionally sells Indian-origin pepper, which is typically intercropped with their coffee. The company cultivates by experimenting with various coffee blends.
Tata coffee ventured with Starbucks and is spread across numerous outlets in India with the intent to create and improve the customer experience of Indian developed coffee over the world through practical and horticulture and eco-friendly coffee estates.
5. BRU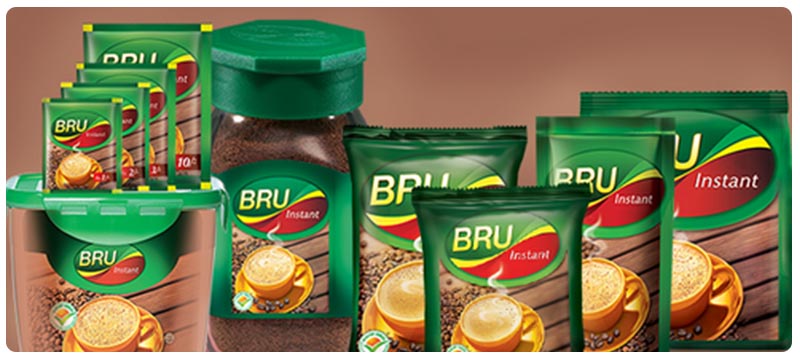 Established in 1968, Bru seamlessly cruises into the Best Coffee in India.
Bru is owned by Hindustan Unilever Limited (HUL), which is known for a lot of its products like Dove Soap, Axe perfumes, Lipton Tea etc. The company set up their first plant in 1968. Since, then, there is no looking back. Bru has its usp of "India's largest coffee brand".
Bru had been fighting a neck-to-neck seesaw battle with Nescafe for ages now. Today the company holds about 49.6% of the market share in India. Bru is known for introducing India's first chicory mix coffee instant coffee, which is known to be famous for its exquisite aromatic flavors.
The company also supplies India's first packaged filter coffee blend, they called it "Brew Green Label". Despite of capturing 2.6% market share of Nescafe in the R&G coffee sector, bru is still India's no 2.
Bru has also lowered their coffee prices as compared to its competitor Nescafe. Bru enjoys a considerable market share in India's coffee industry. Bru has mostly received positive feedback from worldwide coffee aficionados.
6. DAVIDOFF
Talking about the "Best Coffee in India" and omitting this swiss company is a crime! Davidoff is a swiss company founded by Zino Davidoff, who had a great visionary which empowered him to establish Davidoff as a brand, and sell products like perfumes, watches, leather goods and exclusive coffee.
Mr Davidoff believed in one simple life philosophy; which is, "Having a taste for quality is having a taste for life". Davidoff coffee provides a wide variety of flavors. Their coffee is made up of 100% Arabica beans.
The company produces coffee capsules, instant coffee, roasted ground coffee, Café Crème Intense, and many more. Davidoff is simply the Rolls Royce of coffees.
The secret of the rich aroma of Davidoff coffee lies in their wet granulation process; which makes the coffee powder water-proof to moisture absorption and loss of volatile organic compounds (aroma ingredients), literally this process makes water impenetrable, and thus by the significant reduction in exposed surface area.
7. LAVAZZA
Lavazza is an Italy-based company, which has spread its branches and retail outlets all across the world. This highly reputed coffee company imports coffee beans from places like Brazil, Uganda, Guatemala, Columbia, the United States, and Mexico.
Right from grounded coffee, to the roasted beans, you will get all quality finest coffee, all under the same roof.
Lavazza coffee one of the "Best Coffee Brands in India" is famous for and produces mostly Arabica beans for their coffee packaging. But experts opinionates that their coffee is a mixture of Arabica and Robusta beans.
Lavazza has its presence in more than 90 countries and has six manufacturing units across the world. The company is now promoting significant cultivation of coffee beans in Honduras, Peru and Columbia.
Lavazza believes in the principles and values of customer satisfaction and the loyalty of their customers and their word-of-mouth publicity.
Lavazza coffee producers export coffee capsules, ground coffee, espresso coffee, and whole bean coffee all across the world.
8. THE COFFEE CO.
The coffee supplier company is located in Mumbai, Maharashtra and is one of the leading sellers of listed coffee products. The Coffee Co is a quality-operated company that offers a wide range of coffee.
Despite its modest beginnings, with an initial offering of 2 coffee blends and a clientele of only a dozen – today café au lait journey has reached the sky. The Coffee Co. caters to over 500 selected establishments, offering several exquisite blends of fine, shade-grown coffee, apart from a range of filter coffee makers, brewing equipment and accessories, Moka pots, and state-of-the-art coffee machines.
The Coffee Co. also exports roasted coffee beans to a number of countries across the world, having established several contractual agreements & dealerships for the company's products.
The company sells coffee blends like Monsooned Malabar, Morning Dew, Morning Dew organic, Rea (A full-bodied blend made with 75-80% Arabica beans, Rea packs an intense flavor), Southern Estate, Southern Estate Medium Dark.
The company also sells coffee brewing equipment, professional coffee machines, and commercial coffee grinders.
The Coffee Co has established itself as one of the strong contenders for "Best Coffee in India".
9. THE FLYING SQUIRREL
Flying Squirrel, a gourmet Indian coffee company, is another startup sensation that has announced itself with a promising note. Founded by Ashish Dabreo in the year 2013, the company provides great coffee from their plantations located in Coorg, Karnataka. It is one of the leading directly marketed coffee brands in India.
Located within the 100-year-old Nellikad Estate, home for the beautiful flying squirrels, the coffee brand has taken its name from this little animal that glides from tree to tree feeding on berries and fruits.
The Flying Squirrel produces organic coffee on their own coffee estates. Since most of their coffee is cultivated on their own farms and plantations, they can apply innovative methods and experiment a lot with cultivation, processing, drying, and roasting methods.
"We work with creative cultivation methods — growing coffee in the midst of citrus cultivation, with vanilla plantations, in heavily forested areas of the estate, et cetera — to create unique nuances and taste profiles in the final cup."
A lot of coffee connoisseurs and coffee Aficionados in India seem to like it because of its rich aromatic flavor. The quality of their coffee has made The Flying Squirrel to sail easily into our list of "Best Coffee in India".
10. SEVEN BEANS CO.
The seven beans coffee company is a comparatively new company which started its journey in 2015. The company has partnered with an Italian company named Caffè L'Antico. This new age Indian startup company is based in Chikmagalur, and has made rapid progress in the coffee manufacturing industry.
Seven Beans Co. company is the first company to use capsule manufacturing in and across the country.
Capsule manufacturing is a specialized process, which revolves around the concept of keeping the coffee beans away from the air contact which helps in maximizing the coffee flavors. The finest level of precision and perfection is required to procure and taste the ultimate cup of coffee. This is then served to the coffee aficionados.
The seven beans coffee company has started exporting coffee to its clients who are spread worldwide, even in the European countries.
This company, by the virtue of its merit, bulldozes into our esteemed list of "Best Coffee in India"
11. BLUE TOKAI
Our list of "Best Coffee Brands in India" could not be concluded in a better way, with the final inclusion of Blue Tokai coffee company.
Established in 2013, by Matt Chitharanjan and Namrata Asthana, Blue Tokai is one of the best and most premium coffee brands in the country.
Their uniqueness lies in purchasing and sourcing of beans directly from growers and doing the coffee roasting in-house. By doing this, Blue Tokai retains control over the quality of its coffee.
The name "Blue Tokai" comes from an ancient word for a peacock's tail, "Tokai", and this tail is used in the logo.
Challenged by the scarcity of freshly ground good coffee in North India, Matt and Namrata started Blue Tokai as their endeavor to bring good coffee to enrich the taste buds of north India.
Under the watchful eyes of Matt and Namrata, the company roasts coffee twice every week and sends out customized ground coffee to customers across India. They have single orders and monthly subscriptions.
Blue Tokai Coffee is one of the most premium brands of Coffee across the nation.