Top 11 Best Telegram Alternatives in 2022 (Update Nov 2022)
If you ever wanted to shift from Telegram to another similar app, today is the day to seal the deal. Because, in this article, we will list the 11 best Telegram alternatives that actually work. So, keep reading.
Within a few years since its arrival, Telegram has been able to gain huge popularity among users. The wonderful privacy and innovative features of Telegram have brought in a lot of new users. However, many people want to leave the platform as well. The reasons behind being so are the risk of cyberattacks, inadequate support, and so on. Apart from these, some people simply want to try something new. If you too want to leave Telegram, you have come to the right place. Below, we will take a look at some of the best Telegram alternatives in 2022.
List of the best Telegram alternatives to check out this year
When it comes to messaging apps, Telegram is a good but not the only choice out there. There are many similar apps available in the market that work just as fine. Here are some of those apps:
11.
Huut
Lastly, we have something a bit different than the others on our list. It is because Huut is a voice-based messaging app. This is different than the majority of other apps that employ text-based online messaging facilities. Plus, this social media platform offers Multilanguage support too. So you can use the app in 14 different Indian and 5 international languages.
If you are someone who wants to be heard in your own language, Huut is one of the best Telegram alternatives. Using voice rather than text, Huut looks for humanizing the social media experience a bit more. However, you can text someone on the app if you want as well. Also, you can post images, videos, etc., just like any other social media app.
Although this app collects your personal data, texts, etc., they claim that they don't share any data with third parties and the data is encrypted in transit. As this app is fairly new, only time will tell whether these claims are true or not.
10.
Google Chat
If you want something more on the official side, what could be better than Google? Yes, Google's own product named Google Chat is an ideal choice if you are searching for the best Telegram alternatives. Google Chat is a free app that lets you text and video call your dear ones. In case you were aware, many big businesses today use this app for their video conference purposes.
Also, this app lets you text and call in groups, and syncs your messages across all your devices. Interestingly, Google Chat comes free of cost as a part of Google Workspace when you create a new Google account. So there's no need to put any extra effort, and you can use this application right within your Gmail inbox.
9.
Signal
If you are looking for security first, Signal is the app to pick. This free, open-source app lets you have a conversation with your loved ones privately and employs end-to-end encryption technology. That means the app never reads your texts and keeps your messages secured. You can even make your messages self-destruct.
You may be fascinated to know that many famous personalities have said that they give Signal more priority than any other online messaging app. Signal is their first choice because of the privacy it provides.
You can text other users, share multimedia files, voice/video call your friends and family, etc., using Signal. However, users have reported that the app tends to lag at times. So, this could be a bit annoying. Other than that, Signal is among the best Telegram alternatives to try today.
8.
Slack
Next, we have Slack. As an online messaging app, Slack has everything you might ask for. From texting to file sharing to auto-syncing across various devices, it leaves no stone unturned to give you a satisfying experience. Plus, you can also search for your messages with ease.
Slack is a perfect app for teams too, as its features contribute to enhancing teamwork. Plus, its user interface is minimalistic and easy to navigate. While it can serve as a decent Telegram substitute, many users have expressed concerns over its privacy policies and keeping user data stored on Slack's cloud servers.
7.
Discord
If you are a gamer, there's a 99% chance that you know what Discord is. Even if you're not, you might have heard its name at least once. While it originally came to the scene as a platform where gamers could connect and communicate with each other, it quickly went beyond that.
Today, it has become an app suitable for everyone who wants to connect and have discussions with like-minded people around the world. So it's no surprise that it ranks among the best Telegram alternatives out there.
The app gets its amazing reputation because of its cool Discord Screen Share feature. At first, only gamers used this feature. But many new startups and businesses nowadays prefer to use it for communication purposes.
Discord states that it utilizes end-to-end encryption for all its calls and messages, making your chats and texts more private. While there are rumors that Discord is not as secure as they assert, there is no concrete evidence to support such claims.
6.
Microsoft Teams
When talking about the best Telegram alternatives, not mentioning Microsoft Teams would be unfair. Owned by Microsoft Corporation, Microsoft Teams is a cross-platform chat and videoconferencing platform.
For your info, this mobile and PC application comes equipped with an end-to-end encryption feature and provides users with a secure, seamless instant messaging experience. It is so effective that it has replaced Microsoft's own apps like Skype for Business and Microsoft Classroom.
Being an Office 365 chat-based workplace, the app helps users connect, have conversations, and share documents in the app. But remember one thing: Microsoft Teams is intended for remote work, it does not offer an on-premise option. Also, the free version of the app has a storage limit (5 GB/user), bad downtime, no facility for recording meetings, etc. If that's an issue for you, you can opt for one of its paid plans.
5.
Clap Messenger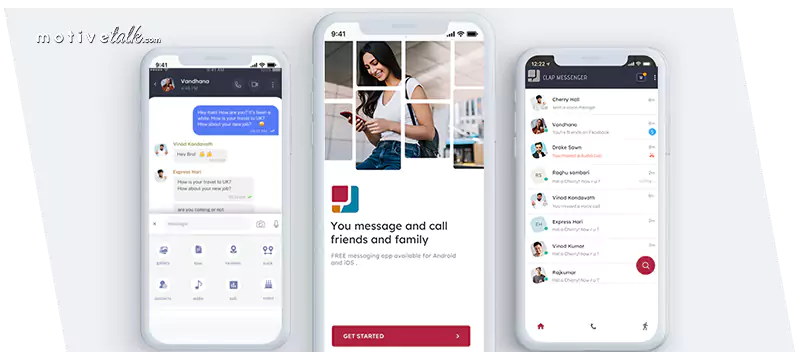 This one is more on the newer side and has shown great potential to flourish. If you belong to millennials or Gen Z, Clap Messenger is a perfect choice because of its cool features.
Also, it has a minimalistic, user-friendly interface, making it seem simple to even those with little to no technical knowledge. Hence, it is a great option for older generations as well.
Just like Telegram, this app is intended for having chats, sending photos/videos to friends, talking to your family over voice/video calls, and so on. But it has a unique feature that attracts users the most, and that is its chat polls. Yes, Clap Messenger lets users create a poll in a group to see what the members' opinions are regarding a film, book, tourist spot, etc.
The app comes with an end-to-end encryption feature for securing your privacy. So the Clap Messenger won't be able to read your messages.
4.
Wickr Me
This name might sound new to you, but trust us when we tell you that Wickr Me is one of the best Telegram alternatives out there. While not as popular as Telegram, it can go toe-to-toe with it because of its cool features. You can text your buddies, send files, and do many other things on the app.
In case you didn't know, the makers of Wickr Me are a group of security experts. So there's nothing to be surprised by the fact that the app's main focus is security. One of its coolest security measures is the shredder feature which lets you delete all your data from Wickr Me with ease. This comes in handy if you want your data to be unrecoverable.
Also, Wickr Me never collects user data or metadata. Plus, this open-source messaging app offers a timer feature for auto-deleting texts. Interestingly, you don't even need to provide your email ID/mobile number to use Wickr Me. This makes it incredibly difficult for a hacker to get access to your account as there is no clear starting point.
3.
Threema
Another great Telegram-like messaging app is Threema. It has a simple, minimalistic interface that reminds us of WhatsApp. There is no doubt that Threema is a good app for sending texts, sharing images and videos, etc. It also allows you to send GPS locations over text. Plus, Threema is compatible with various platforms, including iOS, Android, Blackberry, etc., and lets users block out devices remotely.
This app also comes with end-to-end encryption and auto-deletion of data facilities. Hence, it is clear Threema takes care of your privacy and security to the fullest. Threema has a group conversation feature as well. Many businesses around the world today use this feature for easy, convenient employee communications.
However, it has two major drawbacks. First, chats don't sync between devices. Thus, while you can use Threema on any device, you won't be able to access your previous messages from that device. Second, the installation process is a bit difficult. But as a whole, Threema ranks among the best Telegram alternatives and is definitely worth a try.
2.
Viber
Next, we have Viber – another solid competitor to Telegram. Just like Telegram, Viber contains several cool features. These include group chats, photo/video sharing, etc.
Nonetheless, it has some unique features as well. For example, Viber utilizes color coding to signify varying levels of security. Green represents the chat that has full encryption, while red means that the conversation has some kind of encryption issue.
Luckily, Viber has a desktop app too. So, you can keep chatting with your near and dear ones even in the absence of your phone. Viber also lets you create and join groups. But what's more interesting is that it lets you join communities (groups with unlimited member capacity).
While both Viber and Telegram offer voice/video call features, Viber takes it one step further. It allows you to call any landline/mobile number in the world at a cheap rate.
1.
WhatsApp
Let's be honest. The first name that comes to our mind while thinking about the best Telegram alternatives is undoubtedly WhatsApp. This free app has a minimalistic UI and is available on Android, iOS, and PC.
You can chat with your friends, create groups, share photos/videos, and even talk to your loved ones via voice/video calls. Besides that, WhatsApp comes equipped with end-to-end encryption. That means even the company can't read your conversations.
WhatsApp also offers cloud storage. Therefore, you can access your chats from anywhere and on any device. In short, if you don't wish to stick to Telegram yet want similar features, WhatsApp can be a good option to try.
Conclusion of Top Telegram alternatives
As you can see, several amazing apps can go toe-to-toe with Telegram. Here, we mentioned 11 of the best Telegram alternatives. Refer to our list and pick the one that is the most suitable for your needs.
Topic Summary
Here is a quick list of The Top 11 Best Telegram Alternatives.
WhatsApp
Viber
Threema
Wickr Me
Clap Messenger
Microsoft Teams
Discord
Slack
Signal
Google Chat
Huut